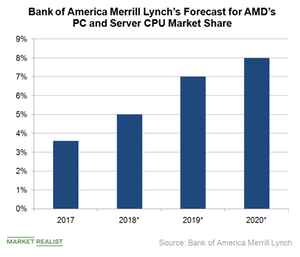 Bank of America Merrill Lynch: AMD Crypto Concerns Are Overblown
By Puja Tayal

Jul. 13 2018, Updated 7:30 a.m. ET
Bank of America Merrill Lynch
Some Wall Street analysts are bearish on Advanced Micro Devices (AMD) due to the end of the cryptocurrency boom. However, some analysts have become bullish on AMD because of its developments in the server space.
According to a CNBC article, Bank of America Merrill Lynch analyst Vivek Arya raised his price target for AMD from $17 to $20, representing a 30% upside from its current trading price. Arya is bullish on AMD because he believes that its new products have strong potential to improve its profit margins and market share in the PC and server CPU (central processing unit) markets.
Article continues below advertisement
AMD's profit margins
According to Arya, investors are putting too much emphasis on GPU (graphics processing unit) sales from crypto miners. AMD's first-quarter revenue included ~$200 million from crypto-related sales. Even if this demand falls, AMD's GPU demand is strong among its core customers: gamers and developers.
Investors may also underestimate AMD's potential to improve its gross margin by increasing its overall ASP (average selling price). The company is shifting its product mix toward the high-margin Ryzen and EPYC server products. EPYC is priced two to three times higher than its predecessors. A high ASP could more than offset the losses from weak crypto-related sales.
A Benzinga articled noted that Arya had raised his 2018 EPS estimate for AMD from $0.45 to $0.50 and his 2019 EPS estimate from $0.60 to $0.70.
AMD's market share
AMD's EPYC server processors are being adopted by server makers such as Cisco (CSCO) and cloud companies such as Baidu (BIDU), while its Ryzen Pro CPUs—for the first time—are being used by the top three commercial laptop OEMs (original equipment manufacturer) Dell, HP, (HPQ), and Lenovo.
Arya expects AMD's market share in the PC and server CPU market to rise from 3.6% in 2017 to 5% in 2018 to 7% in 2019 to 8% in 2020. Continue reading to look at other analysts' comments on AMD.