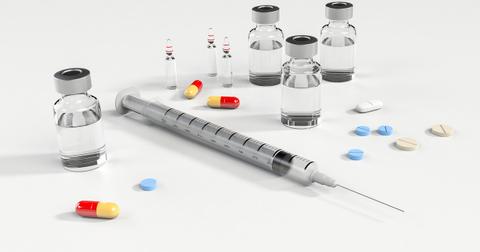 Akorn Fell 6.8% on July 13, Fresenius-Akorn Merger Woes Continue
By Sarah Collins

Updated
Akorn's stock activity
On July 13, Akorn (AKRX) shares fell ~6.8% and closed at $17.91. The stock is trading ~66.6% higher than its 52-week low of $10.75 reported on May 3. The stock is trading ~47% lower than its 52-week high stock price of $33.73 reported on July 17, 2017.
Currently, Akorn stock is trading higher than its 50-day moving average of $15.83, while the stock is trading lower than its 200-day moving average of $21.04.
Article continues below advertisement
Fresenius executive testifies on Akorn deal
On July 12, a Fresenius executive testified on the Akorn deal in the Delaware Chancery. According to Mats Henriksson, chief executive of a Fresenius unit, Fresenius spent two years addressing the problems with one of its plants in India. The company faced a probe from the FDA about the test result storage and drug injection testing processes in 2013. Henriksson said that if Fresenius moves ahead with the Akorn merger, it will recall all of the products that are associated with the questionable test results. The company will need four years to change its operating procedures, which will cost ~$254 million.
On July 9, Akorn's vice president, Kim Wasserkrug, claimed that a consultant warned Fresenius before the merger deal was signed. Fresenius knew about Akorn's data integrity production problems. Akorn claimed that Fresenius is blowing minor issues out of proportion because it wants to back out of the deal.
Fresenius-Akorn merger woes
In April 2017, Fresenius agreed to acquire Akorn for $4.3 billion and undertake its debt of $450 million. The acquisition was expected to be completed by early 2018. On April 22, Fresenius announced that it wanted to terminate the merger agreement with Akorn due to an investigation that claimed material FDA data integrity issues with Akorn's operations. In response, Akorn filed a case against Fresenius in a Delaware Chancery court for the merger to be completed. Akorn stated that it disagrees with the accusations. On May 3, Fresenius filed a counterclaim of fraud with the FDA using Akorn's falsified testing data. On the same day, Akorn shares touched a 52-week low.
Check out all the data we've added to our quote pages. Now you can get a valuation snapshot, earnings and revenue estimates, and historical data as well as dividend info. Take a look!