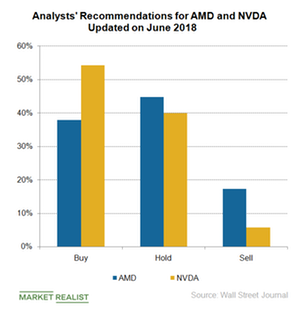 A Slowdown in the Crypto Trend Has Some Analysts Bearish on AMD
By Puja Tayal

Jul. 12 2018, Updated 10:30 a.m. ET
Analysts' ratings for AMD
Advanced Micro Devices (AMD) enjoyed windfall gains in the first quarter thanks to the cryptocurrency boom, during which crypto miners preferred AMD's GPUs over Nvidia's (NVDA) for mining digital currency.
However, a slowdown in the crypto trend has made some analysts bearish on AMD. Of the 29 analysts monitoring AMD, 11 and 13 have "buy" and "hold" recommendations on the stock, respectively, while five, including Morgan Stanley and Bernstein, have "sell" recommendations.
Article continues below advertisement
Morgan Stanley
According to a MarketWatch article, Morgan Stanley analyst Joseph Moore retained an "underperform" rating on AMD but raised the stock's price target from $8 to $11, representing a downside of 29% from its current trading price. He acknowledged that AMD has stronger growth prospects than before but also said that its broad business has exposure in both growing (server) and challenging (graphics cards) markets.
Moore believes that GPUs (graphics processing unit) were a ~$2.6 billion run-rate business in the first quarter. However, the slowdown in the crypto boom is expected to reduce crypto-related revenue by 25% and lower GPU prices, which escalated due to a supply shortage during the boom. Moreover, AMD also faces risk from Nvidia's unannounced next-generation GPU.
Moore acknowledged AMD's opportunity in the server CPU space but stated that revenue gains in this market would not be able to offset cryptocurrency losses in the intermediate term. However, he expects AMD's server CPU to become a $1.2 billion run-rate business by the end of 2019.
Bernstein
According to Coin Telegraph, Bernstein analyst Stacy Rasgon noted that AMD had high exposure in the cryptocurrency market. The company launched its Vega GPUs in 2017, but most of the production ramp was used by crypto miners rather than gamers. Hence, the end of the crypto boom could affect AMD's Vega GPU sales. Moreover, if miners choose Vega alternatives, it could put pressure on AMD's GPU sales in terms of both units and selling price.
AMD bulls disagree. We'll look at their comments next.