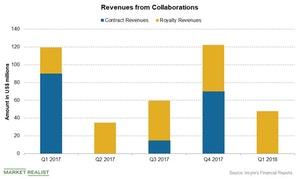 A Look at Incyte's Product Portfolio in July
By Mike Benson

Updated
Incyte's product portfolio
Incyte's (INCY) product portfolio includes targeted therapies and immuno-therapies for oncology and non-oncology diseases. Incyte's product portfolio includes 17 molecular targets and 19 clinical candidates. The chart below shows its revenues from collaborations since the first quarter of 2017.
Article continues below advertisement
Non-oncology drugs
Incyte's non-oncology products include Baricitinib and Ruxolitinib. Olumiant (baricitinib) is approved for the treatment of rheumatoid arthritis. The drug is undergoing clinical trials for the treatment of systemic lupus erythematosus and psoriatic arthritis, as well as a pivotal study for atopic dermatitis. Eli Lilly (LLY) holds the exclusive worldwide development and commercialization rights for Olumiant (baricitinib).
Eli Lilly also holds the development and commercialization rights for Ruxolitinib for the treatment of graft-versus-host disease in the United States. Novartis (NVS) holds the international development and commercialization rights for Ruxolitinib.
Oncology products
Incyte (INCY) classifies its oncology product portfolio based on the therapies used for treating these diseases. These categories include immuno-oncology therapies and targeted anti-cancer therapies.
Immuno-therapies target the patient's immune system to fight cancer cells. The products in INCY's immuno-therapy portfolio include Epacadostat and several other drugs. Incyte has a collaborative agreement with Merck & Co. (MRK) and Bristol-Myers Squibb (BMY) with respect to Epacadostat.
Targeted anti-cancer therapies target cancer cells while causing minimal damage to normal cells. The products under targeted therapies include Jakafi (ruxolitinib), Iclusig, and Itacitinib. Iclusig is approved for patients with Philadelphia-chromosome positive acute lymphoblastic leukemia and chronic myeloid leukemia. Iclusig was acquired by Incyte from Ariad Pharmaceuticals in 2016.
The iShares Global Healthcare ETF (IXJ) holds 0.3% in Incyte (INCY), 1.7% in Eli Lilly (LLY), and 1.9% in Bristol-Myers Squibb (BMY).