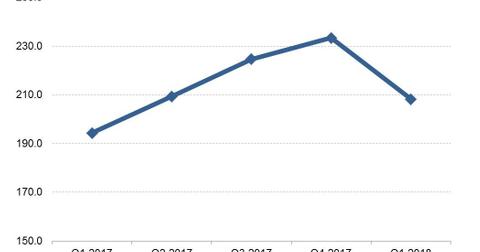 Zynga Changes Controversial Stock Structure
By Neha Gupta

Updated
Founders' voting control diminished
Zynga (ZNGA) has simplified its stock structure by moving away from the contentious multi-class stock structure to a single-class structure, which has enabled Zynga founder, Mark Pincus, to convert all his high-voting shares into regular common shares that carry one vote per share. As a result, Pincus's control in Zynga has significantly declined with his voting power dropping to about 10% from 70% previously.
When Zynga went public in December 2011, it sold Class A shares that carry one vote per share to the public. However, founders and early investors had access to Class B and Class C shares, which carry seven and ten votes each, respectively. That was how Pincus ended up with 70% voting control in the company.
A divisive subject
However, the multiple share class structure has long been a divisive subject for companies like Facebook (FB), Alphabet, Snap (SNAP), and CBS (CBS). Twenty-First Century Fox (FOX) (FOXA), the media conglomerate that agreed to sell the majority of its operations to Walt Disney (DIS), also has a multi-class stock structure.
As part of the pushback against the multi-class stock structure, the S&P Dow Jones last year said it would bar companies with multiple classes of shares from joining its widely tracked S&P 500 Index.
Revenue exceeded internal target
Zynga's revenue rose 7.2% year-over-year to $208.2 million in the first quarter, exceeding internal guidance by $8.2 million as shown in the chart above.