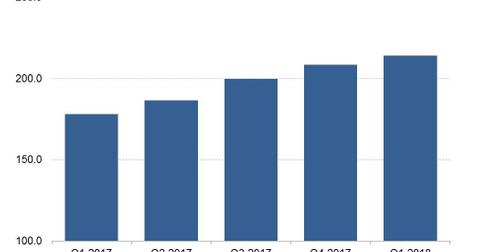 Yelp Renews Antitrust Complaint against Google
By Neha Gupta

Updated
Yelp accuses Google of unfair ranking of rival pages
Yelp (YELP) recently filed a fresh complaint with the European antitrust agency against Alphabet's (GOOGL) Google, according to media reports. Yelp has long accused Google of abusing its dominance in online searches, particularly in local research results. In 2014, Yelp brought its complaint to the European Union antitrust agency about Google's alleged practice of favoring its products and services in local searches.
In 2017, the EU slapped Google with a recode fine of ~$2.8 billion in an antitrust case that also questioned Google's fairness in providing online search results. However, the matters covered under the case were different than what Yelp wanted the EU to press Google to address.
Yelp believes it has strengthened its case
Yelp's complaint against Google is primarily tied to local research results, where it claims that Google gives prominent placement to its local offerings at the expense of its rivals. After studying the EU's 2017 ruling on Google's antitrust case that led to the company being fined, and also after examining other recent developments, Yelp believes it has a stronger case against Google that could persuade the European antitrust regulator to act.
Competition for online traffic
Yelp and Google generate most of their revenues from providing online advertising services, which means they compete for online traffic. Yelp's advertising revenues rose 20.0% YoY (year-over-year) to $214.0 million in the first quarter, compared to a 24.3% YoY increase in Google's advertising revenues in the same period. 
Facebook (FB), Twitter (TWTR), and Snap (SNAP) reported that their advertising revenues increased 50.0%, 62.0%, and 21.0% YoY, respectively, in the first quarter.