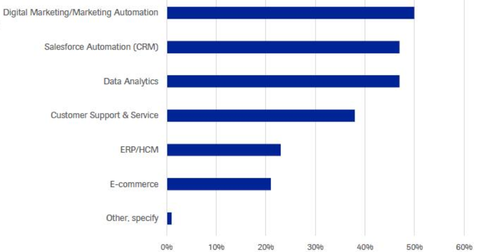 Why SAP, ORCL, and ADBE Are Drawn to Customer Management
By Anne Shields

Updated
CRM expected to be the fastest-growing market this year
Earlier in the series, we discussed SAP's (SAP) recent acquisition and the launch of its new offering, C/4HANA, which targets the CRM (customer relationship management) space. SAP isn't the only player that's set its eyes on the CRM space. Adobe (ADBE) and Oracle (ORCL) are also making strategic acquisitions and launching their product offerings to gain a strong foothold in the space.
According to Gartner, global CRM software revenue soared to $39.5 billion in 2017 and overtook database management systems revenue, which reached $36.8 billion last year. Julian Poulter, a research director at Gartner, said, "In 2018, CRM software revenue will continue to take the lead of all software markets and be the fastest growing software market with a growth rate of 16 percent."

Factors driving growth in the CRM market
Voice of the customer, field service management, and lead management are the subsegments in the CRM space that have achieved more than 20% growth. The growth in these segments is driving growth in the CRM space.
A recent renewal in demand for sales technology and a rise in marketing technology have attracted many new players to the CRM space. However, major players such as Adobe, Oracle, and SAP—which offer CRM suites covering sales, marketing, commerce, and services and are thus able to cross-sell enhanced offerings to existing customers—are growing at a higher-than-average rate. This growth explains why these players are making strategic acquisitions to further enhance their offerings and domain expertise in this rapidly growing market.