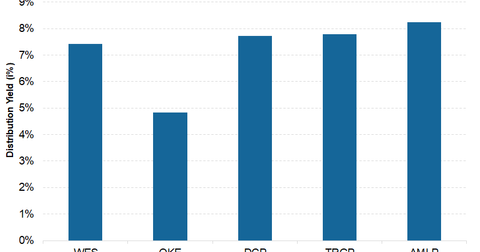 Why OKE Has the Lowest Distribution Yield among Peers
By Kurt Gallon

Updated
Distribution yield
ONEOK (OKE) has the lowest distribution yield of 4.8% among selected peers, which could be attributed to the partnership's strong distribution growth guidance supported by its strong earnings growth potential and impressive distribution coverage.
Western Gas Partners (WES), DCP Midstream (DCP), and Targa Resources (TRGP) were trading at a distribution yield of 7.4%, 7.7%, and 7.8%, respectively. TRGP's distribution yield is the highest among the selected peers, which could be attributed mainly to its high commodity price exposure, flat distribution, high leverage, and high capital spending targets. All four players are currently trading at a lower distribution yield compared to the Alerian MLP ETF (AMLP), which has a distribution yield of 8.2%.
Historical distribution
Western Gas Partners and ONEOK grew their quarterly distribution by 2.0% and 3.2%, respectively, during the recent quarter. On the other hand, Targa Resources and DCP Midstream have kept distribution flat at $0.91 and $0.78 per unit for the past several quarters, respectively.
Distribution outlook           
OKE is targeting an annual distribution growth of 9% to 12% during the 2018–2021 period, while WES is aiming to grow its distribution at a fixed rate of 1.5 cents per unit for each quarter through 2019. TRGP and DCP are less likely to resume distribution growth in 2018 considering their high leverage, high crude oil exposure, and significant expansion plans.
In the next article, we'll look at a valuation analysis for the four peers.