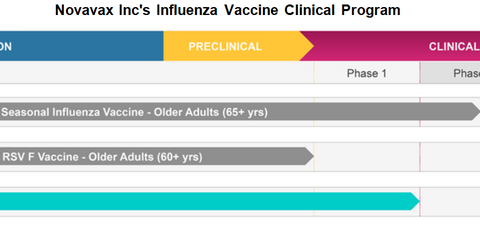 Why Novavax Sees a Huge Opportunity in Its Influenza Vaccine
By Kenneth Smith

Updated
Influenza
Novavax (NVAX) expects the seasonal influenza vaccine market in the world's top seven markets to grow from ~$3.2 billion in the 2012–2013 season to $5.3 billion by the 2021–2022 season. Influenza is an infectious disease that causes illness in humans, ranging from mild to life-threatening symptoms or death. Largely in part due to infection by unique strains of influenza for which most people have not developed protective antibodies, serious illness occurs in susceptible populations (such as the elderly and very young) as well as the general population.
Advantages of recombinant vaccines
Recombinant seasonal influenza vaccines offer major advantages, as once they are licensed commercially, they can be manufactured in large quantities quickly and cost-effectively without the use of live influenza viruses or eggs. In February, Novavax reported positive top-line results from the Phase 1/2 clinical trial of its nanoparticle seasonal trivalent influenza vaccine candidate, NanoFlu, in older adults. The primary objective of the trial, initiated in September 2017, was to compare the safety and immunogenicity of two dose levels of the NanoFlu vaccine and high doses of Fluzone, currently the market-leading licensed influenza vaccine for older adults. Overall, NanoFlu was well tolerated over the three-week trial. Based on the results, Novavax expects to begin a Phase 2 quadrivalent NanoFlu trial in the third quarter. These results were published in The New England Journal of Medicine on June 13. In the next part of this series, we'll look at Novavax's financial performance.