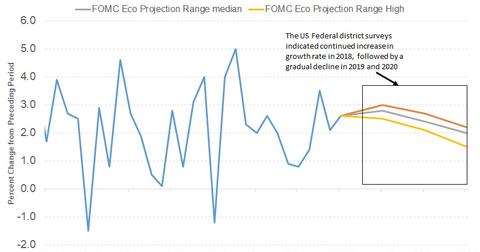 Why Has the FOMC Upgraded Its US GDP Forecast for 2018?
By Ricky Cove

Updated
GDP forecast from the SEP report
In its June FOMC meeting, the Federal Reserve increased the federal funds rate by 25 basis points and also released upgraded economic projections through its SEP (Summary of Economic Projections) report. Members' projections for US economic growth, inflation (TIP), unemployment, and the federal funds rate are reported in the SEP report.
The SEP report is released four times per year, with the first release being in March and the others being in June, September, and December. In its latest SEP release, the Fed upgraded its GDP growth outlook for 2018 by 0.1% to 2.8% compared to the 2.5% growth outlook it had in December 2017 and the 2.1% forecast it had in September 2017. The committee's growth outlooks for 2019 and 2020 were left unchanged.
What drove GDP projections higher?
US economic activity remains robust, while the introduction of tax cuts for consumers and industries (XLI) and late-cycle fiscal stimulus have extended the expansionary cycle of the US economy. If we add increased consumer spending and a lower unemployment rate, there could be further pricing pressures, which could increase economic activity and inflation (VTIP) in the months ahead.
Could US GDP projections be realized?
The SEP is prepared according to the expectations of the FOMC members, and it could change if the economy fails to perform as expected or due to any external risks that arise in the future. Due to the recent upbeat economic data in the US economy (VOO), it's possible that these upbeat projections will be surpassed in the next few quarters.
In the next article, we'll take a look at why FOMC members expect inflation (SCHP) to pick up in future months.