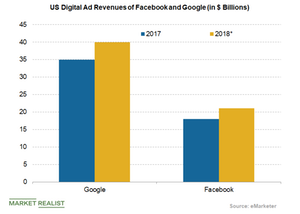 Why Facebook Is Facing General Data Protection Regulation Fines
By Sophia Nicholson

Updated
Facebook and Google facing charges
Facebook (FB) and Alphabet's (GOOGL) Google, along with Facebook's Instagram and WhatsApp, are facing charges for the violation of the new EU (European Union) law on data protection and privacy of the General Data Protection Regulation (or GDPR). The GDPR law was passed in April 2016 but came into effect on May 25 to put more stringent rules on foreign companies that use consumer data. The law allows people to have greater control over their data.
Tech giants are accused of "forced consent"
According to the GDPR law, companies like Facebook and Google, which extract a lot of user information, will have to be more transparent with consumers in regards to the data they collect from users. However, users in Europe have filed complaints against Facebook and others, saying the tech companies have violated GDPR.
According to The Irish Times, the complaints against Facebook and its two divisions WhatsApp and Instagram are worth 3.9 billion euros, while complaints worth 3.7 billion euros have been filed against Google's Android operating system for smartphones. Privacy advocate Max Schrems filed the charges through his non-profit organization called NOYB (None of Your Business) with data protection agencies in Austria, Belgium, France, and Hamburg in Germany.
According to the complaints, Facebook and Google push people to give consent for data extraction, which is forbidden by EU law. According to the law, users should willingly give consent for policies and a compulsory consent should only be obtained when it is necessary for the provision of the service. As a result, the complaints will put an end to the annoying pop-ups, and could also help small companies that don't force customers to agree to policies. The companies have reportedly disputed the charges.
Digital ad market
Facebook and Google are dominating the digital advertising industry. Snap (SNAP), Amazon (AMNZ), and Verizon's (VZ) Oath are also among the smaller digital advertising providers competing with the two industry behemoths.
According to eMarketer predictions, Google's digital ad revenues will grow 14.5% to reach $39.9 billion in 2018, while Facebook's US ad revenues are expected to grow 16.9% to $21.0 billion in 2018. Total US digital ad spending is poised to rise 6.6% to ~$221 billion in 2018.