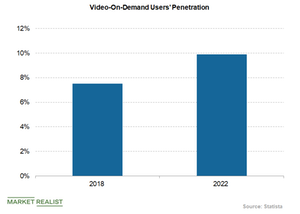 Why Disney Agreed to Raise Funding for Sky News for 15 Years
By Sophia Nicholson

Updated
Disney to fund Sky News
Media giant Walt Disney (DIS) is making a 15-year funding commitment to Sky News, a unit of London-based Sky, which is an acquisition target of both Comcast (CMCSA) and 21st Century Fox (FOXA).
The current budget of Sky News is around 90 million pounds per year. Disney's commitment includes funding Sky News with at least 100 million pounds (or $132 million) per year for the next 15 years, which is up from the ten-year funding guarantee it had offered previously. Disney has also agreed to protect its operating costs in real terms. As a result, now Disney cannot sell Sky News for 15 years. In fact, Disney gave a formal commitment of preserving the editorial independence of Sky News.
Takeover of Sky
The increased funding for Sky News came after British culture secretary Matt Hancock urged both Fox and Disney to increase their Sky News budget to 100 million pounds to get through the Sky deal. Hancock also wanted to protect the news broadcaster, and therefore he wanted Sky News to operate as a major UK-based (EWU) news provider and to be able to make its editorial decisions independently.
Hancock also stated earlier this month that 21st Century Fox would be allowed to take over European pay-TV firm Sky only on the condition that Fox will offload Sky News in advance to a third party such as Disney.
Currently, Fox owns a 39% stake in Sky and wants to grab the remaining 61% stake in Sky for $15 billion. Comcast is also bidding for a 61% stake in Europe's biggest pay-TV company, Sky, and has offered about $31 billion for Sky.
Hancock will now consult formally with all parties for 15 days and give its views on July 4 on whether Fox should be given full control of Sky and Sky News. However, Sky's board is currently not recommending either the Fox or the Comcast offer to its shareholders. Disney also wants to buy Fox's entertainment assets including Sky. Comcast, the US cable TV giant, has offered a rival $65 billion bid for those assets.
Notably, user penetration is increasingly growing for the "video-on-demand" segment, as is evident from the chart above. User penetration is expected to increase to 9.9% in 2022 from 7.5% in 2018.