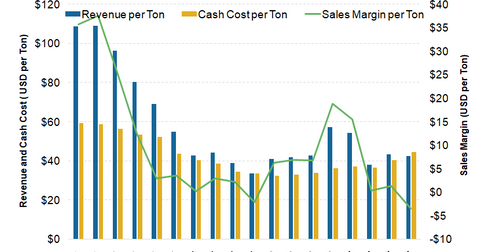 Why CLF's US-Centric Iron Ore Policy Could Reduce Stock Volatility
By Anuradha Garg

Updated
Change in business mix
Cleveland-Cliffs (CLF) has come a long way as far as its business mix is concerned. When the new management took over the company in 2014, it had four divisions:
US Iron Ore
Eastern Canadian Iron Ore
Asia Pacific Iron Ore
North American Coal
US iron ore centric strategy
The new management focused primarily on the accretive US-focused pellet business. While some of the assets were sold off, others were put into bankruptcy, barring the Asia Pacific iron ore, which the company has recently announced it will exit. Cliffs's CEO has been quite vocal about seaborne iron ore miners (XME) such as BHP (BHP), Rio Tinto (RIO), and Vale (VALE) flooding the markets with too much iron ore, negatively impacting iron ore prices. He's mentioned time and again that the company would like to exit its Australian operations as soon as possible, and this is probably that time.
Back in April, the company announced it would exit the business by June 30. On June 12, it announced that it had agreed to sell it to Australian mining services company Mineral Resources for an undisclosed amount.
With the sale, however, the company is expecting to reduce the closure costs by $65 million to $75 million. CLF's CEO termed this step of exiting the Asia-Pacific iron ore business as "the final step in the implementation of our U.S. iron ore-centric strategy."
Reduced volatility
Investors should note that while this division was not contributing anything significant to the company's earnings for the past few quarters, the volatility in iron ore prices was having a significant impact on the company's stock price.
Thus, its exit from the direct seaborne iron ore business will likely reduce the stock's volatility. The company is primarily a US-based (SPY) (SPX) iron ore pellet producer and should be valued as such.
Since the majority of Cliffs's revenues and earnings come from the US steel market, we'll look at recent trends in US steel prices and its outlook in the next part of this series.