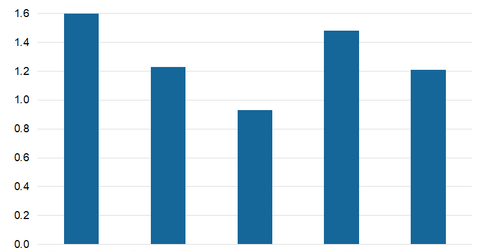 Why Citi Offers Value Investing Options among Other Bankers
By Robert Karr

Updated
Stock movement
Citigroup (C) stock has declined 10.6% over the past six months and has risen 4.5% over the past year. The stock has underperformed peer banking stocks (XLF), as other bankers have reported strong trading and asset management growth. Citi's trading primarily comprises debt-related income. Amid trade war concerns, this volatility can rise substantially in this category, providing strong growth opportunities for the bank.
Citigroup can also benefit from its global presence and stable dollar. The bank's balance sheet has become stronger after the divestiture of its legacy assets. Its balance sheet is well-suited for lending across retail and corporate offerings in and outside the United States.
In the first quarter, Citi reported net income of $4.6 billion, up from $4.1 billion in the first quarter of 2017. This growth came from higher interest income, lower taxes, and lower spending.
Discounted valuations
Citigroup is trading at a price-to-book multiple of 0.93x, whereas the industry average is ~1.4x. The discount has widened in the recent weeks on concerns over its trading income and marginal growth in credit offtake. However, the bank is making strides in retail lending and diversified trading income to counter weaker debt trading.
Citigroup's peers' multiples are as follows:
Citigroup's one-year forward price-to-earnings multiple is 9.0x, reflecting a lower valuation than its peers' average of 10.8x.
2018 growth outlook
In 2018, Citigroup is expected to post earnings per share of $6.48, reflecting 21.6% growth on higher net interest income, retail lending, a revival of trading income, and new assets for management. The major growth drivers would be macroeconomic growth and stability, credit offtake, and the purchase of debt-related offerings.