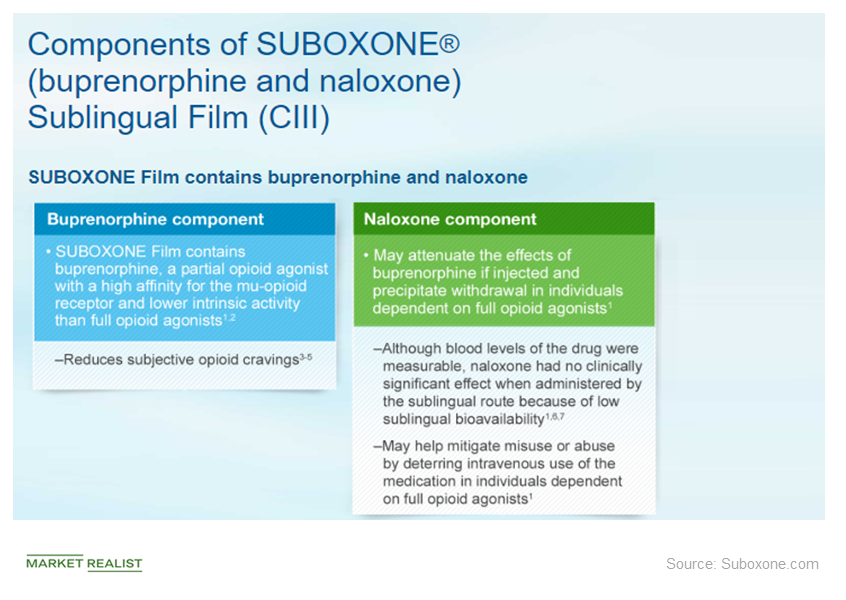 When Will Mylan Launch Its Recently Approved Generic Suboxone?
By Sarah Collins

Nov. 20 2020, Updated 2:40 p.m. ET
Mylan received FDA approval for generic Suboxone
Mylan (MYL) received FDA approval for its generic version of Indivior's (INVVY) opioid addiction treatment drug, Suboxone, on June 14.
The FDA also approved Dr. Reddy's Laboratories' (RDY) generic version of Suboxone. Dr. Reddy has plans to launch four doses of the drug in the United States. However, Mylan hasn't announced any launch plans for its generic Suboxone yet.
Mylan's recently approved generic Suboxone is a film strip that leads to reduced addiction cravings when placed under the tongue. It combines buprenorphine and naloxone.
Article continues below advertisement
Indivior's attempts to delay competition for its Suboxone drug
Dr. Reddy's is facing an ongoing patent lawsuit filed by Indivior to delay the launch of its generic Suboxone. Both Mylan and Dr. Reddy's will enter the market at risk, as the litigations aren't yet settled. Mylan and Indivior previously entered into an agreement to delay the launch of Mylan's generic Suboxone until 2023. Mylan's generic version of Suboxone could launch a few weeks after Dr. Reddy's in the event that Dr. Reddy's wins against Indivior in the hearing, which is scheduled for June 28.
In 2016, Indivior discontinued its tablet version of Suboxone and switched to the film-strip version of the drug so as to thwart the competition. However, the Federal Trade Commission has been looking into the company's alleged antitrust issues to prevent it from holding off the competition. The company has lost its market share in the space, seeing it fall from 61% to 57% from 2016 to 2017.
Indivior also recently settled a patent dispute litigation with Endo International's (ENDP) Par Pharmaceutical, which could delay the launch of its generic Suboxone until 2023.
Check out all the data we've added to our quote pages. Now you can get a valuation snapshot, earnings and revenue estimates, and historical data as well as dividend info. Take a look!