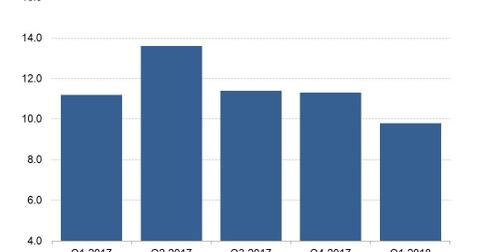 When Is eBay Re-Launching in India?
By Neha Gupta

Updated
Walmart-Flipkart deal opened door for eBay to re-enter India
eBay (EBAY) intends to re-launch operations in India. Its decision to re-enter India is coming about a year after the company sold its India operations and licensed its brand to Flipkart.
eBay's return to India has been enabled by the opportunity to sell a stake in Flipkart. Walmart (WMT) struck a deal to buy 77% of its equity stake in Flipkart for $16 billion in its escalating competition with Amazon (AMZN). The deal with Flipkart involves Walmart buying out some investors in Flipkart, and one of those investors is eBay.
eBay selling Flipkart stake for $1.1 billion
eBay is set to collect $1.1 billion from selling its Flipkart stake. Besides selling its India operations to Flipkart, eBay last year joined Microsoft (MSFT) and Tencent (TCEHY) in a funding round that raised $1.4 billion for Flipkart. eBay's investment in that round was $500 million.
Although eBay has revealed it initially intends to focus on cross-border trade in its return to India, the company has not provided a specific timeline for when it intends to re-launch operations in India. However, we can expect eBay to re-launch in India after the Walmart-Flipkart transaction closes. Walmart expects to close its Flipkart deal before the end of the year.
eBay to focus on cross-border trade
eBay's cross-border trade approach in India will involve connecting Indian merchants to overseas customers and enabling overseas vendors to sell to Indian consumers. eBay exited the first quarter with $9.8 billion in cash, and the Walmart-Flipkart deal is likely to boost its cash holdings.