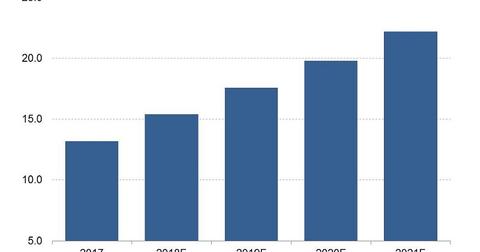 What's behind Snap's Yellow Accelerator Program?
By Neha Gupta

Updated
Snap to begin with ten startups under Yellow
Last month, Snap (SNAP) launched a startup accelerator program called Yellow, through which it intends to invest in and nurture the next big media business. The company said it would invest $150,000 each in qualifying media startups in exchange for a small equity stake. In addition to funding, these startups will be given office space near Snap's headquarters in Venice, California. Snap executives will also mentor the startups.
In the first phase, Snap is looking to invest in ten startups. Through its Yellow accelerator program, Snap will be holding annual contests to enable it to identify brilliant media ideas that it can support.
Advertisers show more interest in Snapchat video ads
During the call to discuss its first-quarter results, Snap talked about how advertisers are embracing Snapchat video advertising, adding that it was "building a lot of creatives" to strengthen its video advertising business.
Snap's launching an accelerator program to invest in promising media startups could be an expansion of its efforts to "build a lot of creatives" as its chief strategy officer, Imran Khan, put it to analysts last month.
Taking control of video supply
Snap currently relies on third-party media partners such as the Walt Disney Company (DIS) and Viacom (VIA) (VIAB) for professionally produced videos posted to its Snapchat platform, against which it sells advertisements to generate revenue.
The Yellow accelerator program could open an avenue for Snap to have more control over its professional video supply and to guard against the risk of potentially problematic content. Advertisers fled Google's (GOOGL) YouTube last year following media reports that their YouTube ads were appearing near videos or comments promoting violence or indecent behavior. Johnson & Johnson (JNJ) and Verizon (VZ) were among the big advertisers that boycotted YouTube advertising to protest against ads running close to objectionable content.
Spending on digital video ads in the United States is poised to grow to $22.2 billion by 2021, according to eMarketer.