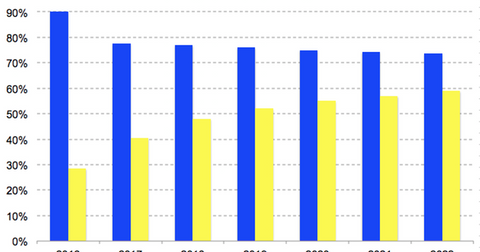 What Uber's CEO Had to Say at Recode's Code Conference
By Sanmit Amin

Updated
UberEats is growing at 200% and has reached a $6 billion run rate
Ride-hailing giant Uber's CEO Dara Khosrowshahi said during Recode's Code Conference that the company intends to go public in the second half of 2019. Khosrowshahi said during the conference that Uber wants to be the "Amazon of Transportation." Khosrowshahi mentioned that in the future Uber could be a platform that bikes, buses, and even subways operate on.
According to Khosrowshahi, Uber's online food delivery service, UberEats has achieved a $6 billion run rate. A run rate is a projection that annualizes data from a shorter period. He said that the division has grown by over 200%. Uber is giving market leader GrubHub (GRUB) a run for its money in the United States.
Uber may be offering its drivers benefits and insurance package
Recently, San Francisco's city attorney subpoenaed ride-hailing companies Uber and Lyft for key driver information in order to figure out if they are contractors or employees. During the Code Conference, Khosrowshahi said that the company is working on an economically feasible way to offer drivers a benefits and insurance package.
While the company's image has improved since Khosrowshahi took over as CEO, recent events including a number of women allegedly being sexually assaulted by Uber drivers have been a stain on the new CEO's report card.
Uber's autonomous vehicle efforts have been suspended after a fatal accident in Arizona. However, the CEO said that Uber's autonomous cars "will be back on the road over the summer."
Uber recorded its first profit in the first-quarter 2018. However, that was thanks to the sales of its operations in Southeast Asia.