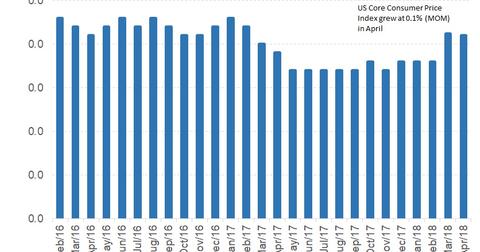 What the Fed Could Do after Inflation Breaches the 2% Mark
By Ricky Cove

Updated
US inflation close to the Fed's target
The Fed's preferred inflation measure, the Personal Consumption Expenditures Price Index (or PCE), has remained below the 2.0% target for more than six years. The stubbornly low inflation (TIP) level has left the Fed members searching for reasons to explain the inability of inflation (VTIP) to tick higher, despite the increase in wages, low unemployment, and near-zero interest rates.
Lower inflation growth was the primary reason that the Fed increased interest rates at a snail's pace in 2015 and 2016, with only one rate hike per year.
What changed the inflation outlook?
The primary reason for inflation (SCHP) to remain below the Fed's 2.0% target was the decline in oil prices between 2014 and 2016. The rebound of crude oil prices from a low of $33.00 per barrel in early 2016 to the recent high above $70.00 was one the key reasons for inflation to pick up in the US.
How could the Fed react to rising inflation?
The PCE has been slowly moving toward the 2.0% target in recent months. This has been a cause for concern for investors, as they feared that the Fed could increase interest rates sooner than expected to combat inflation above 2.0%. This led to a selloff in the bond (BND) markets, with the US ten-year (TLT) yield breaching the 3.0% mark in April.
Markets were calmed after the term "symmetric" was added to the Fed's communications. This could mean that the 2.0% level for inflation is not an upper ceiling. Rather, it would be used as an axis, rather than a trigger, to change the monetary policy stance. In other words, the slow pace of rate hikes is expected to continue for the time being, and businesses are expected to benefit from ultralow interest rates.