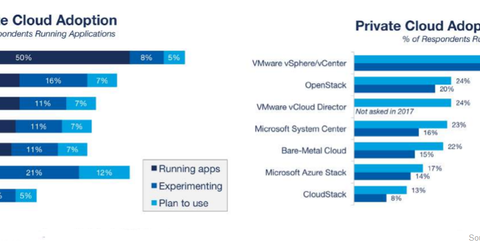 What Makes vSAN One of VMware's Best-Performing Solutions?
By Anne Shields

Updated
Factors that have boosted vSAN's popularity and growth
Earlier, we discussed VMware's (VMW) vSAN (virtual storage area network) performance in its most recent quarter. Let's look into the factors that have contributed to vSAN's growth.
vSAN seems to be a popular choice among large businesses, as it can limit the costs of power and legacy-style support contracts. It removes the SAN (storage area network) middleman, thus simplifying management. Its flexibility enables the creation and design of storage makeshifts that don't need external storage infrastructure.  
Article continues below advertisement

VMware's vSphere leads in private cloud adoption
vSAN is a hypervisor-converged storage offering for the vSphere environment. vSphere refers to VMware's suite of server virtualization offerings. VMware's vSphere is viewed as a prominent offering for virtualizing infrastructure and building cloud infrastructure. Through its vSphere 6 release, VMware enhanced its focus on storage, specially VVOLs (virtual volumes) that enable data provisioning and management at the VM level.
The addition of VVOLs allowed storage arrays to be virtual machine–aware, thus expanding VMWare's software-defined storage capabilities. Within the private cloud, VMware's vSphere continues to lead with 50% adoption in 2018 compared to 42% in 2017, as the above presentation shows and as stated by the RightScale 2018 State of the Cloud Report.
VMware has integrated its PKS (pivotal container service) offering with NSX and vSphere. PKS is the end product of the company's collaboration with Google's (GOOGL) Google Cloud and Pivotal Software, which it entered into in late August 2017. According to VMware, "PKS is the only Kubernetes platform that has a built-in networking and security capability with NSX and deep integration with vSphere making it a compelling choice for customers."
VMware's vSAN's rising popularity and growth have induced other major players in this space, such as Nutanix (NTNX) and SimpliVity, to incorporate a common storage model into their own offerings. This model enables VMware's administrators to use vSAN to develop an efficient hypervisor ecosystem.