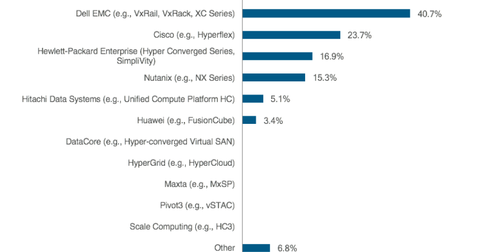 What Caused VMware's Net Income to Surge?
By Anne Shields

Updated
VMware's net income surged
Earlier in the series, we discussed VMware's (VMW) top line growth as well as its operating margins. In fiscal Q1 2019, VMware's revenue rose 13.8%, while its net income rose approximately fourfold to $942 million from $245 million in fiscal Q1 2018.
VMware's profit surge in fiscal Q1 2019 was mainly the result of a one-time gain of $781 million from Pivotal Software's IPO. Pivotal is a software and cloud company that came into existence after the spin-off of Dell EMC and VMware.

Dell's debt burden is likely the cause of its potential merger with VMware
In April, VMware's parent company, Dell, pursued an IPO for Pivotal. The move helped the company boost its cash and investments balance, which stood at $21.7 billion at the end of fiscal Q1 2019, implying sequential and YoY (year-over-year) increases of $1.4 billion and $6.7 billion, respectively. The company has ~$52.4 billion in short-term and long-term debt, respectively, most of which stemmed from its acquisition of EMC in 2016.
In the past quarter, Dell's revenue has risen 19% YoY to $21.4 million. However, the company's debt continues to be a source of concern. Citing analyst Stephanie Long of Technology Business Research, ARN wrote, "The vendor's sizeable debt burden, due in large part to the EMC acquisition back in 2016, remains a challenge and a potential inhibitor of progress if unable to be appropriately managed."
It's very likely that owing to its significant debt, Dell is keen on a merger with VMware or a higher ownership stake in its subsidiary.
Currently, VMware's parent company is exploring various probable routes, including the conversion of Dell's VMware tracking stock to Dell common shares, a reverse merger, an IPO, or no action at all. Read Why Is Dell So Interested in VMware? to know more.