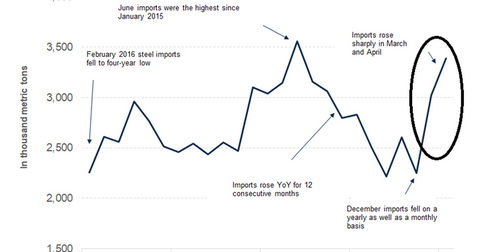 Trade Tensions Rise as the US Seeks to Curb Chinese Investment
By Anuradha Garg

Updated
Is the US set to announce more curbs on China?
After posting negative returns last week, US stock market futures have started the week 0.6% lower. The S&P 500 Index (SPY)(SPX), the Dow Jones Industrial Average (DIA)(DOW), and the NASDAQ Composite Index (QQQ) closed the week ended June 22 with returns of -0.4%, -1.5%, and -0.1%, respectively, amid escalating trade war tensions. 
Those concerns are far from over and seem to be ramping up quickly. The most recent example of these escalating tensions is the Trump administration's plans to put curbs on tech exports to China and Chinese investment.
Article continues below advertisement
This plan would bar a host of Chinese companies from investing in US technology firms. According to Fox Business, the US Department of the Treasury would block firms with at least 25.0% Chinese ownership from buying companies with what the White House calls "industrially significant technology." Along with barring Chinese investment, the administration may also consider curbing technology exports to China.
Ratcheting up trade tensions
There are widespread expectations that these curbs could be announced by the end of this week. These initiatives by the Trump administration are reportedly planned to prevent China from moving ahead with the plans outlined in its Made in China 2025 policy. 
The administration is again citing security reasons as a rationale for these restrictions. White House trade adviser Peter Navarro noted, "We've got trillions of dollars seeking our crown jewels of our technology." He added, "There has to be a defense against that."
Tariffs and gold's safe-haven appeal
On June 15, the Trump administration announced a 25.0% tariff on $50.0 billion of Chinese goods. After China's threat of retaliation, Trump had directed the US trade representative to identify $200.0 billion of Chinese exports that could be subject to 10.0% tariffs.
If implemented, the recent initiatives by the US are expected to push the trade tensions up a notch, which isn't beneficial to equity markets. However, gold (GLD) and other precious metals could benefit from the current uncertain environment.