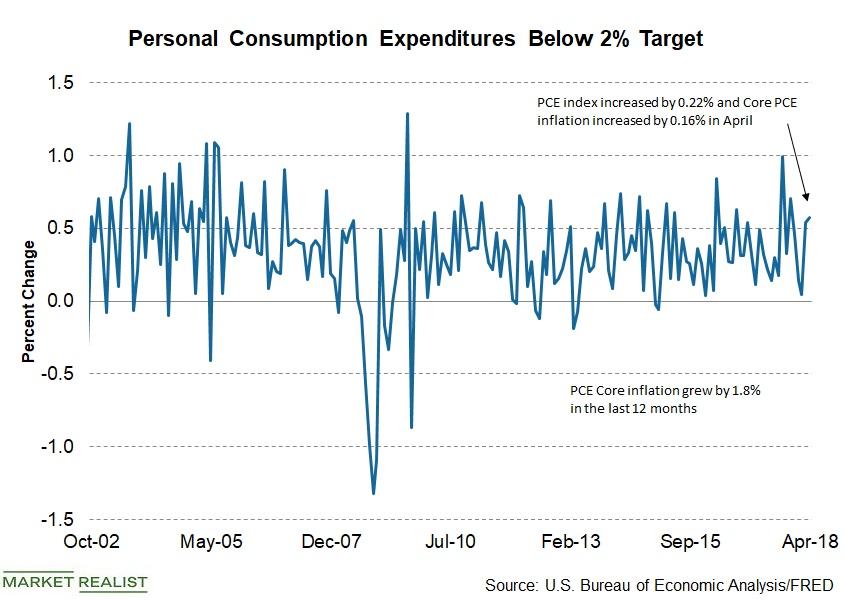 This Economic Data Point Decreased the Odds of a 4th Rate Hike
By Ricky Cove

Jun. 1 2018, Updated 11:24 a.m. ET
Personal consumption expenditure
Personal consumption expenditure (or PCE), as defined by the Bureau of Economic Analysis (or BEA), is the value of the goods and services purchased by, or on behalf of, persons who reside in the United States. This is the preferred measure of inflation (TIP) for the Federal Reserve as the changes to this index reflect the actual price increase or decrease for consumers. 
The Fed has a dual mandate of maintaining a low unemployment level and a steady price level in the economy. With US unemployment levels falling to a multi-decade low, inflation (VTIP) reaching 2.0% is the only unachieved target that is forcing the Fed to maintain an accommodative monetary policy.
Article continues below advertisement
Price indexes below Fed's 2% target
The April headline PCE was reported to have increased 0.22% sequentially and 1.97% year-over-year. Core PCE (SCHP), which excludes the volatile food and energy (USO) prices, increased 0.16% from the March levels and 1.8% year-over-year. 
The only negative from this month's report is the 0.2% increase in government transfer payments or Social Security benefits in April, despite the decline in unemployment benefits paid by the government.
Reason for reduced odds of a fourth rate hike
The May FOMC (Federal Open Market Committee) meeting minutes indicated that the members were in no hurry to increase interest rates as soon as inflation breaks the 2.0% target. This has substantially reduced the odds for a fourth rate hike in December, leading to a sharp reversal in bond (BND) yields after the minutes were released. 
In the current economic climate, where political and trade uncertainties remain the key drivers, we can expect the Fed to take a step back with respect to interest rate hikes and limit them to three in 2018. The risk to this outlook appears to be inflation shooting too far above the 2.0% level, which seems unlikely at this point—or at least in the next 12 months.