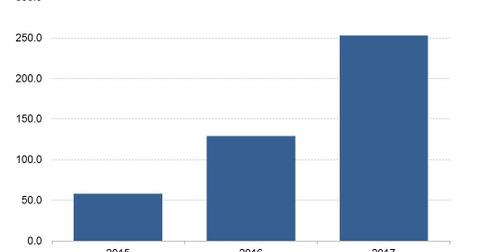 Square's Caviar Challenges GrubHub's Eat24 and UberEats
By Neha Gupta

Updated
Caviar introduced instant payment for drivers
Square (SQ) has rolled out an option for Caviar drivers to receive their payments instantly through its Cash App. "It really economically empowers couriers, and we believe it changes how on-demand workers access their earnings," the Verge quoted Caviar head Gokul Rajaram as saying about the option for drivers to receive instant payments.
Before the instant payment option arrived, Caviar delivery drivers received their payments once a week through their bank accounts. The instant payment option could help attract more drivers to Caviar's network, potentially giving Square an edge in the competition for contract couriers.
Article continues below advertisement
GrubHub bought Yelp's meal delivery service, Eat24
Caviar is Square's online food delivery service, which competes with Uber's UberEats and GrubHub's (GRUB) Eat24. Until 2017, Eat24 was owned by Yelp (YELP), which sold it to GrubHub for almost $290.0 million. This transaction also opened an opportunity for more collaboration between the two companies.
Caviar is a component of Square's Subscription and Services segment, which saw its revenues jump 95.0% to $253.0 million in the first quarter. In a recent client note cited by MarketWatch, Wells Fargo (WFC) analyst Timothy Willi wrote that Square's Subscription and Services segment could reach $9.3 billion in annual revenues with its current base of customers.
More than 7 million people use Cash App
Cash App enables Caviar drivers to receive their payments immediately. Cash App is Square's peer-to-peer funds transfer service that had attracted more than 7.0 million users by the end of 2017. Cash App is Square's answer to Venmo from PayPal (PYPL).