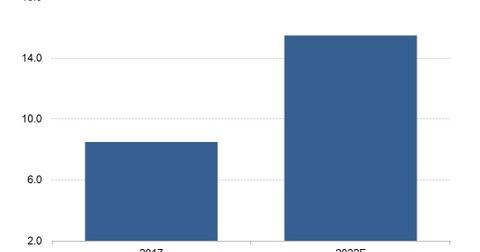 Square Wants to Clear Up Doubts about Caviar's Value
By Neha Gupta

Updated
Food delivery, a capital-intensive business
Four years ago, Square (SQ) acquired food delivery service Caviar for a reported $90 million. But the acquisition has faced questions, with some wondering whether Square made the right decision to venture into the highly competitive and capital-intensive business of delivering restaurant meals.
In the online food delivery business, Square's Caviar is battling it out with big names such as Amazon (AMZN), Grubhub (GRUB), and Uber, which either have more experience in the business or have deeper pockets. Square exited the first quarter with $1.2 billion in cash compared to Amazon's $16.7 billion cash holdings. Uber is backed by SoftBank (SFTBY), the Japanese multinational conglomerate, with a $100 billion fund ready to invest where it deems fit.
Article continues below advertisement
Square fighting for its space in the food delivery market
Although Caviar may be an underdog in the online food delivery market, Square is starting to show that it didn't make a mistake by acquiring the business or venturing into the food delivery market. So far this year, Square has made two strategic acquisitions to enhance its Caviar business. It acquired restaurant delivery platform Entrees On-Trays in January, followed by the acquisition of corporate catering startup Zesty in April. In May, Square launched a restaurant-specific software platform called Square for Restaurants, which it integrated with Caviar. The integration could help draw more restaurants to use its Caviar delivery service.
$15.5 billion up for grabs in food delivery market
Caviar feeds Square's subscription and services segment, where revenue grew 98% year-over-year to $97 million in the first quarter. There is a huge opportunity for Square to drive more revenue growth in that segment.
The US third-party restaurant meal delivery market, in which Caviar is a player, is poised to grow to $15.5 billion by 2022, according to Pentallect. The market was estimated at $8.5 billion last year.