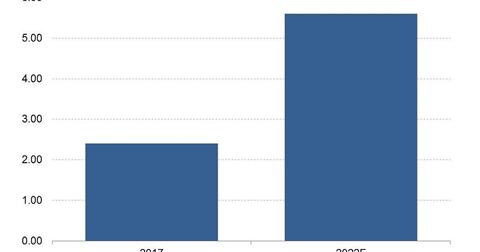 Snap Partners with Tyroo to Access Advertisers in India
By Neha Gupta

Updated
Digital video on the rise in India
Snap (SNAP) recently partnered with Indian-based ad-technology company Tyroo to extend its Snapchat platform to more advertisers in India. Snapchat reached 191 million people globally in the first quarter, and it's promising advertisers a reach of over 9.0 million people in India.
India's digital advertising industry was estimated to be ~$2.4 billion last year, and it's poised to grow to more than $5.6 billion by 2022, according to Statista. Online search, video, and social media advertising are the largest segments of India's digital advertising industry.
Snap is collaborating with several media companies, including the Walt Disney Company (DIS) and Viacom (VIA) (VIAB), on video programming to enhance the appeal of its online video advertising service.
Article continues below advertisement
India is a target of many Internet companies
Snap's partnership with Tyroo marks its first foray in India, a hotly sought-after market for digital products. Amazon (AMZN), which—like Snap and Facebook (FB)—provides online advertising services in addition to its core e-commerce business, is investing more than $5.0 billion to grow in India. Walmart (WMT) is also placing a giant bet on India, with a $16 billion investment for a majority stake in Indian-based e-commerce company Flipkart.
Face-off with Facebook and Twitter
Snap's India move opens another battlefront with Facebook, Google (GOOGL), and Twitter (TWTR) for digital advertising budgets. For Snap, expansion into India could go a long way toward improving its ARPU (average revenue per user) in the rest of the world—that is, the markets outside North America and Europe. Snap's ARPU in the rest of the world was $0.58 in the first quarter compared to its global average of $1.21.