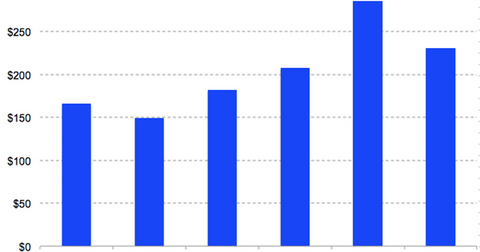 Snap CEO Evan Spiegel Shares His Views on Facebook
By Sanmit Amin

Updated
Spiegel speaks at Recode's Code conference
Snap (SNAP) CEO Evan Spiegel targeted Facebook (FB) and its policies at Recode's Code conference. Spiegel made a tongue-in-cheek comment when he was asked about Facebook's privacy policies, saying "we would really appreciate it if they copied our data protection practices also," and "our values are really hard to copy." He went on to say that "it's important to point out that there wasn't any Russian manipulation of Snapchat." Spiegel has been steadfast in his views even after Snapchat's controversial redesign in February was met with user revolt.
Spiegel defends his redesign
During the conference, Spiegel defended his approach to the redesign. He argued that he'd prefer to launch a product if the "reasoning is sound" instead of spending a lot of time on testing.
Recently, a report by The Information revealed that Spiegel could have launched the redesign without employee approval and proper testing. During the Code conference, Spiegel argued that despite the fact Facebook has imitated a lot of its popular features, Snapchat can still survive because Snapchat is a place for close friends, whereas Facebook is more of a broadcast platform, according to Spiegel. Snap stock has fallen 27.1% this year.