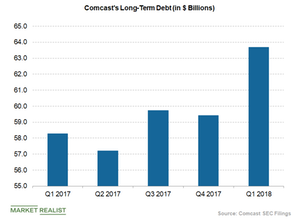 Should Comcast Make a Counterbid for Fox to Overshadow Disney?
By Sophia Nicholson

Updated
Comcast is mulling over the Fox deal
The Walt Disney Company (DIS) has raised its offer to $71.3 billion for 21st Century Fox's (FOXA) entertainment assets, leaving media and cable company Comcast (CMCSA) in distress.
Comcast bid $65 billion for Fox's assets on June 13. Now Comcast's CEO, Brian Roberts, has to decide on how to respond to the escalating bidding war for Fox's assets.
Article continues below advertisement
Is a higher offer viable for Comcast?
Comcast is reportedly contemplating an offer of $75 billion or even higher as a counterbid to gain control of Fox's assets. However, according to sources, an offer of ~$41 or $42 per share in cash would significantly hurt Comcast's credit rating and could burden it with a massive debt load.
In a separate deal, both Comcast and Fox are looking to buy a 61% stake in European pay-TV group Sky. However, Comcast has made an all-debt offer of 12.50 British pounds (~$31 billion) per share for Sky, while Fox is quoting 10.75 pounds per share. Fox already has 39% ownership in Sky, which is one of the assets on which both Disney and Comcast are bidding.
Comcast's long-term debt at the end of the first quarter was $63.7 billion, up from $58.2 billion in the previous year's quarter. Comcast's current $65 billion cash offer for Fox, along with its potential 61% stake in Sky, is expected to cause its debt load to shoot up to $170 billion. In fact, the deal would make Comcast the world's second-most indebted company (excluding financial institutions and government-related entities) after AT&T (T), which has debt of ~$249 billion after its acquisition of Time Warner.
It will be a tough decision for Comcast's CEO whether to raise the offer or not.