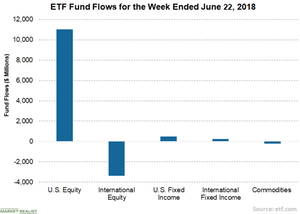 Russell-Indexed Funds Boost US Equity ETFs' Inflows
By Peter Barnes

Updated
US equity ETFs collected $11 billion
Despite US-China trade tension spooking the markets, ETFs saw strong inflows last week. FactSet data showed that US-listed ETFs garnered inflows worth $7.5 billion during the week. Now, the year-to-date inflows are $142.5 billion. On a net basis, investors poured $11 billion into US equity (GS) (MS) (BAC), while international equity continued to see outflows with net redemptions of $3.4 billion. US fixed-income ETFs added a moderate $476.3 million, while international fixed-income had $222.8 million.
Article continues below advertisement
Huge inflows in Russell-Indexed ETFs
The funds tracking Russell indices were the top collectors of the week. They added combined inflows of $15.6 billion. Russell is in the process of reconstituting all of its US Russell indices, including the popular Russell 1000 and Russell 2000 indices. Funds tracking those indices will also have to rebalance their portfolios based on the new weights. As a result, ETFs tracking Russell indices saw huge activity before to their reconstitution. The reconstruction occurred after the market closed on Friday.
Out of the top ten ETFs with the largest inflows, eight were from iShares Russell. The iShares Russell 1000 Growth ETF (IWF) was the top ETF with the largest inflow of $4.1 billion followed by the iShares Russell 1000 Value ETF (IWD), the iShares Russell 2000 Value ETF (IWN), and the iShares Russell Mid-Cap Growth ETF (IWP). The SPDR S&P 500 ETF Trust (SPY) also added a sizable $2.8 billion.
The Vanguard High Dividend Yield ETF (VYM) was the top loss with net redemptions of $3.1 billion. The iShares MSCI Emerging Markets ETF (EEM), the Vanguard Small-Cap ETF (VB), and the Financial Select Sector SPDR Fund (XLF) had net outflows of $2.9 billion, $1.9 billion, and $1.2 billion, respectively.
Upcoming events
The US and the UK will report the final GDP growth rate for the first quarter. The US will also unveil new home sales and personal spending data for May. The Reserve Bank of Australia will decide on the interest rate movement. The European Central Bank will hold its non-monetary policy meeting. Germany will disclose the inflation rate and unemployment rate for June. Japan will also reveal the unemployment rate for May and consumer confidence data for June.