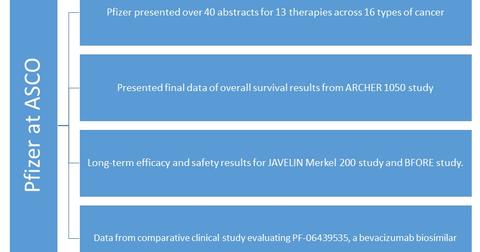 Pfizer's Highlights from the 54th Annual Meeting of ASCO
By Mike Benson

Updated
Pfizer and ASCO
The 54th Annual Meeting of the American Society of Clinical Oncology (or ASCO) was held in Chicago from June 1 to June 5.
Leading pharmaceutical company Pfizer (PFE) presented data on both its marketed oncology products and its investigational oncology products at the meeting.
The chart above lists a few highlights from Pfizer at the ASCO meeting.
Highlights
Pfizer presented over 40 abstracts for 13 therapies across 16 types of cancer at the meeting. A few of the key abstracts it presented included the following:
the final data on the overall survival results from the ARCHER 1050 study, a pivotal study evaluating dacomitinib versus gefitinib in the treatment of patients with non-small cell lung cancer with EGFR mutations
the Phase 2 results of a clinical trial evaluating Ibrance (palbociclib) in combination with cetuximab in patients with platinum-resistant HPV-unrelated (human papillomavirus) metastatic/recurrent head and neck squamous cell carcinoma
the long-term efficacy and safety results of the JAVELIN Merkel 200 and BFORE studies, with the JAVELIN Merkel 200 study evaluating Bavencio in the treatment of patients with skin cancer and the BFORE study evaluating Bosulif versus imatinib in the treatment of patients with chronic myeloid leukemia
data analyzing resistance to treatment based on genetic mutations from the PALOMA-3 trial evaluating Ibrance in combination with fulvestrant in the treatment of patients with ER+/HER2- metastatic breast cancer
data from the comparative clinical study evaluating PF-06439535, a bevacizumab biosimilar, in the treatment of patients with advanced non-small cell lung cancer
Apart from these highlights, there were a few other Pfizer-sponsored oral presentations during the event.
The SPDR S&P Pharmaceuticals ETF (XPH) holds 4.2% of its total investments in Pfizer, 4.5% in Eli Lilly and Company (LLY), 4.6% in Merck & Company (MRK), and 4.2% in Allergan (AGN).
Check out all the data we have added to our quote pages. Now you can get a valuation snapshot, earnings and revenue estimates, and historical data as well as dividend info. Take a look!