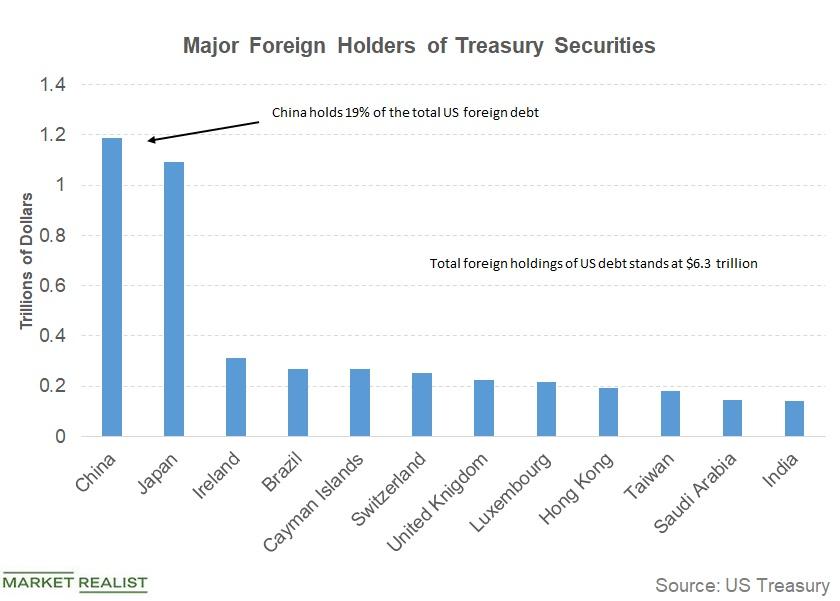 One Way China Could Twist Trump's Arm
By Ricky Cove

Jun. 22 2018, Updated 7:32 a.m. ET
An economic weapon
There is one economic measure at China's dispense that could force the Trump administration to back away from its aggressive trade policy. This measure could dangerous, and not just for the United States, but for the global financial system.
This year, US bond (BND) yields rose on January 10 after reports that China (FXI) could be stopping purchases of US government securities. As China is one of the largest purchasers of US government securities (GOVT), a decline in demand from China could lead to an imbalance in US debt markets, especially as the US Treasury is pumping out bonds (AGG) to fund the large fiscal deficit created by the Trump administration's expansionary fiscal policy.
Article continues below advertisement
Why is China so important for bond markets?
According to the US Treasury, China owns close to 20% ($1.2 trillion) of US debt. China invests its trade surplus with the United States in US bond markets, helping the United States buy more Chinese products. If trade barriers are enacted to limit such purchases, there is a strong possibility that these bond purchases could decline.
Why is this dangerous for global markets?
A decline in buying interest from such a large purchaser could lead to higher bond yields, which could push bond (IVV) prices lower and raise bond market volatility, prompting investor panic and chaos in global markets. In the next part of this series, we'll discuss another way China could counter US trade tariffs.