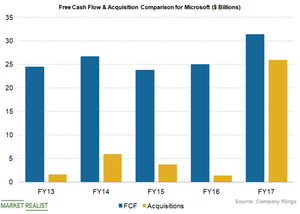 Microsoft's Strong Cash Flows Support Its Acquisition Goals
By Aaron Hemsworth

Updated
Strong free cash flow driving acquisitions
Microsoft's (MSFT) series of acquisitions has been supported by its strong free cash flow generation. In the last five years, the company has invested ~$38.6 billion at an average of $7.7 billion per year in acquisitions. During this period, the company has generated average annual free cash flow of ~$26.3 billion. 
The company's free cash flow generation has easily outpaced its acquisition investments each year. Despite Microsoft's strong capital return policy, the company is able to maintain healthy free cash flow every year.
The chart above illustrates Microsoft's free cash flow trend against its acquisition expenditures in the last five years. During the last five years, Microsoft's peers IBM (IBM), Accenture (ACN), and Oracle (ORCL) have generated average annual free cash flows of $13.0 billion, $3.9 billion, and $13.1 billion, respectively.
Headwinds
However, rising leverage coupled with higher research and development expenses may act as strong headwinds for Microsoft's acquisition goals. At the end of its fiscal third quarter,[1. fiscal Q3 2018 ended March 31, 2018] the company's total debt stood at $85.1 billion YoY (year-over-year) compared to $73.7 billion in its fiscal third quarter of 2017. In the next five years, Microsoft expects $22.3 billion of debt to mature, putting more pressure on its cash flow.
Microsoft returned ~$99.7 billion in capital to its shareholders in the form of share buybacks and dividend payments, maintaining an annual run rate of $19.9 billion. So, the company's aggressive acquisition strategy may impact its future capital return goals. Integration costs tend to persist during acquisitions, which could also impact the company's margins.