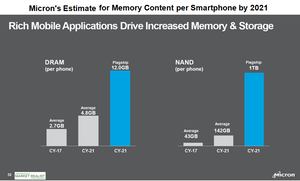 Micron's Opportunity in Increasing Memory Content per Smartphone
By Puja Tayal

Updated
Smartphone market outlook
Micron (MU) is on the cusp of high growth as the world moves toward a data economy. The mobile business is set for its quantum leap in which feature-rich phones drive memory demand. The overall smartphone market has slowed, with the world's largest smartphone makers—Samsung (SSNLF) and Apple (AAPL)—reporting a slowdown in shipment growth.
Most of Apple's suppliers, including TSMC (TSM) and Broadcom (AVGO), reported weaker sales from the wireless market in the first quarter as Apple cut its iPhone production. However, Micron reported record revenues from the mobile business. What's driving the mobile memory market?
Mobile memory market TAM
At its 2018 Investor Day, Micron's chief business officer, Sumit Sadana, noted that he expects the mobile memory market to grow from ~$45.0 billion in 2017 to $54.0 billion in 2021. Sadana projected a majority of this growth coming from increasing memory content per mobile device.
In the chart above, Sadana showed that an average smartphone currently contains 2.7 GB (gigabytes) of DRAM (dynamic random access memory) and 43 GB of NAND (negative AND). This is expected grow to 4.8 GB of DRAM and 142 GB of NAND by 2021.
This level of memory content is already available in today's flagship phones. The 2021 flagship phones might contain 12 GB of DRAM and 1 TB (terabyte) of NAND. This brings us to the question of what is driving this memory content per phone.
Memory growth drivers
Micron's CEO, Sanjay Mehrotra, explained there is growing demand for high-quality smartphone cameras that can take high-resolution images and videos. This data would require greater storage space, driving demand for NAND flash. The smartphones would also be equipped with data-rich features like augmented reality, artificial intelligence, and facial recognition.
To utilize its facial recognition capabilities, the smartphone must be able to scan through several high-resolution images at a faster pace. This level of processing requires enough DRAM, driving demand for more DRAM content per device.
Continue reading to learn about the other growth drivers for Micron in the smartphone space.
Check out all the data we have added to our quote pages. Now you can get a valuation snapshot, earnings and revenue estimates, and historical data as well as dividend info. Take a look!