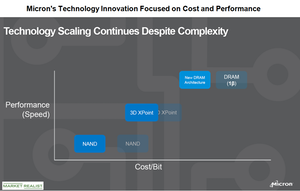 Micron Focuses Its Technology Innovation on Cost and Performance
By Puja Tayal

Jun. 18 2018, Updated 7:30 a.m. ET
Micron's technology innovation
Micron Technology (MU) is focusing its technology innovation on high-value solutions and on accelerating the transition to advanced nodes to reduce production costs.
In high-value solutions, consumers demand smaller chips that deliver more memory bandwidth while consuming less energy. Working along these lines, Micron is developing next-generation NAND (negative AND) and DRAM (dynamic random-access memory) products.
Article continues below advertisement
3D NAND
Micron is working with Intel (INTC) to develop a third-generation 96-layer 3D NAND that can offer more storage capacity in a smaller space. With this product, Micron and Intel's partnership will come to an end, and Micron will build the fourth-generation 3D NAND by itself.
In the fourth generation 3D NAND, Micron aims to improve memory bandwidth by 30% and reduce energy consumption by 40%.
GDDR6
Micron is also developing next-generation GDDR6 (double data rate type six synchronous graphics random-access memory). TweakTown looked at a research paper released by Micron that provided technical details and performance measurements of GDDR6. According to the paper, GDDR6 beats HBM2 (high-bandwidth memory) when overclocked. At present, NVIDIA (NVDA) uses HBM2 memory in its professional and data center graphics processing units. There are rumors that NVIDIA's next-generation GeForce GTX 1180 GPU will release by the end of 2018 and feature GDDR6 technology.
3D XPoint
Micron is also developing storage-class memory products based on the 3D XPoint architecture it developed in collaboration with Intel. Micron will focus its 3D XPoint–based products on machine-learning and AI applications.
Next, let's look at Micron's capital spending on the above technologies.