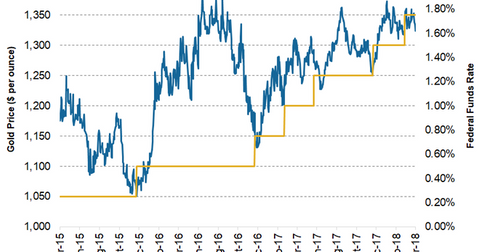 Louis Gave Believes Inflationary Boom Will Support Gold
By Anuradha Garg

Updated
Will inflationary boom support gold?
Louis Gave, co-founder and CEO of Gavekal Research, spoke at the SIC (Strategic Investment Conference) 2018. The main theme of his keynote speech was a once-in-a-generation shift from a disinflationary boom to an inflationary boom. He uses a four-quadrant framework to determine the current phase of the cycle the economy is in.
Gave believes the disinflationary boom is the natural state of capitalism and shifts to an inflationary boom every 30–40 years, usually due to policy mistakes. He also uses the bond-to-gold ratio to determine the shift in the cycle. He believes that over a four-year period, bonds should always outperform gold, and when they don't, it's an important signal.
He added that since bonds have been underperforming gold for the last four years, we are moving to an inflationary boom and bust period. During inflationary booms, bonds are not good diversifiers. He suggests that cash and gold act as the best hedges during these periods.
Article continues below advertisement
Inflation gauges suggest higher inflation
The major market gauges for long-term inflation in the United States have started to creep higher, suggesting higher future inflation. The US bond market's gauge for investors' inflation expectations climbed to its highest level since August 2014. The ten-year inflation break-even rate, which is the difference between ten-year inflation-protected securities and regular securities, reached 2.2%. The forward inflation expectations in the United States are firming up. That's in line with Goldman Sachs's view of an expected uptick in inflation.
The Trump administration's protectionist measures are expected to add fuel to the inflation fire. Expectations of rising inflation (TIP) are conducive to gold's inflation-hedge appeal.
Mining stocks that have followed gold (GLD) in their price movements include First Majestic Silver (AG), Royal Gold (RGLD), and Iamgold (IAG), which are trading at $7.10, $89.20, and $6.20, respectively. Like precious metals, precious metal miners may rise when there is a potential rise in inflation.
Emerging markets to also support gold
Gave offered another argument in gold's favor—growth of emerging markets. He believes that the increasing purchasing power of emerging markets translates to higher gold demand. Here's what Gave said, which sums up his belief in gold: "I think the time indeed has come for having gold in your portfolios."