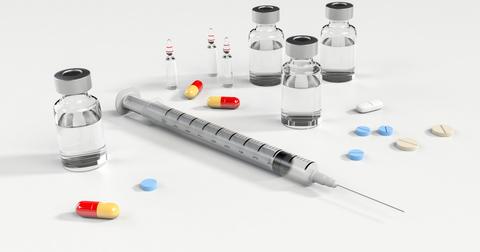 LLY Announces Results for Emgality in Episodic Cluster Headaches
By Mike Benson

Updated
Eli Lilly's Emgality
In a press release on June 27, Eli Lilly (LLY) announced positive results from its phase-three study evaluating Emgality (galcanezumab-gnlm) for the treatment of episodic cluster headaches. We'll discuss details about the drug and its clinical trials in this article.
The above chart shows key highlights for Emgality in episodic cluster headaches. Emgality is a monoclonal antibody designed to reduce the overactivity of the calcitonin gene-related peptide (or CGRP).
Article continues below advertisement
US FDA and Emgality
The US Food and Drug Administration (or FDA) has conditionally accepted the brand name of Emgality. The investigational drug is a self-administered once-monthly injection for the prevention of migraines and cluster headaches.
Phase three study
The episodic cluster headache study was a randomized, double-blind, placebo-controlled study evaluating the safety and efficacy of Emgality 300 mg once monthly as compared to the placebo. The study was done on 106 patients over two months, and the average cluster headache attacks were 17.5 attacks per week in the beginning.
The primary endpoint was a change in the average attacks per week across weeks one to three. The secondary endpoint was a response rate where patients achieved at least 50% fewer attacks per week at week three.
The patients treated with Emgality reported a significant reduction in weekly cluster headache attacks as compared to patients who received the placebo. Also, ~76% of total patients receiving Emgality achieved a 50% reduction in weekly cluster headache attacks as compared to 57% of patients receiving the placebo at week three.
Eli Lilly will present detailed results for the study at the American Headache Society's annual meeting on Saturday, June 30, as a late-breaking presentation.
The Health Care Select Sector SPDR ETF (XLV) holds 2.5% of its total investments in Eli Lilly (LLY), 2.7% in Bristol-Myers Squibb (BMY), 3.8% in Amgen (AMGN), and 1.9% in Biogen (BIIB).