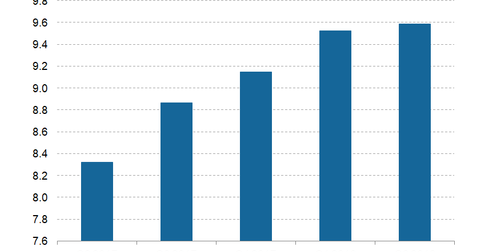 Is Accenture's Fiscal Q3 2018 Revenue Guidance Achievable?
By Aaron Hemsworth

Updated
Outlook
Accenture (ACN) has maintained strong top line growth in the last five quarters. The company expects its fiscal Q3 2018 revenue to be in the range of $9.9 billion–$10.2 billion, which reflects annual growth of between 6% and 9% in local currency. 
The company also believes that it will see a positive 5.5% foreign exchange benefit to its revenue.
In the graph above, we can see Accenture's total revenue growth over the last five quarters, during which time it has maintained an increasing trend. During the period, it has grown at a CAGR (compound annual growth rate) of 3.6%. At the end of fiscal Q2 2018, the company's total revenue improved 15.2% YoY (year-over-year) to $9.6 billion. In the first months of fiscal 2018, Accenture generated $19.1 billion in revenue compared to $16.8 billion in revenue in the same period last year.
Factors influencing revenue growth
Accenture continues to gain from solid double-digit revenue growth in almost all its operational units. Moreover, the revenue across all its geographical segments, particularly in Europe, has shown strong growth momentum. This momentum has been triggered by the ongoing digital migration to the cloud space within different organizations, which has continued to boost Accenture's top line growth.
The company's consulting business remains another key catalyst for its revenue growth. In the last five quarters, the revenue from the unit has increased at a CAGR of 4%. The company's continued robust booking growth may also be reflected in its top line growth in the coming quarters.
The company's continual launch of new products and services may not only act as a strong tailwind for its revenue growth but also as a counter to competition from other large tech companies, such as IBM (IBM), Oracle (ORCL), and Microsoft (MSFT).