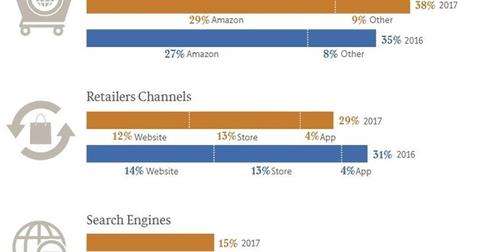 India: Amazon Signals Tough Marketplace Competition with Walmart
By Ruchi Gupta

Updated
Amazon expands its seller lending program
Amazon's (AMZN) Indian subsidiary is expanding its seller lending program, with the move coming only a few weeks after Walmart (WMT) revealed a plan to make a massive investment in India's e-commerce industry.
Walmart is buying a 70% equity stake in Flipkart for $16 billion, a transaction that could see it buy out current Flipkart investors such as eBay (EBAY). Flipkart is Amazon's main rival in India's e-commerce industry, so this is a big move by Walmart to improve its competition with Amazon.
Wider choice of loans
Amazon's expanded seller lending program will expand credit opportunities and choices for merchants, as they will be able to access loans from third-party lenders. Merchants could also benefit from cheaper loans as lenders compete for customers.
By expanding access to small business loans, Amazon hopes to help more merchants grow their businesses and start selling online. Extending a lending hand to sellers could also help Amazon pull more merchants to its online marketplace.
Monetizing the marketplace
Online marketplace operators such as Amazon, Walmart, and Alibaba (BABA) generate money by charging to facilitate sales and payments for traders on their marketplaces. They also generate revenue by offering advertising services for traders.
With consumers increasingly beginning their online shopping journeys on marketplaces as opposed to search engines, as we can see in the chart above, the marketplace service business is drawing more and more players, and the competition is getting stiff. Facebook (FB) also offers online marketplace services, and it recently moved to start offering marketplace advertising for businesses.
Expanding credit opportunities for traders could help Amazon not only to pull more merchants to its marketplace but also to boost their loyalty to its platform.