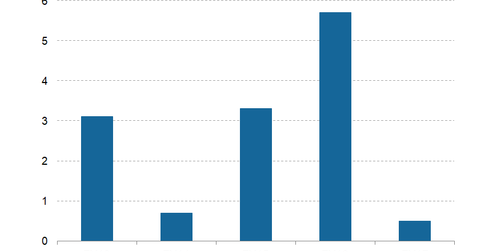 IBM's Armanta Acquisition Aims to Boost Regulatory Compliance
By Aaron Hemsworth

Updated
Acquisition in detail
IBM (IBM) bought the analytics software company Armanta in May. The financial terms of the deal were not disclosed.
Armanta's technology platform helps financial institutions meet the regulatory guidelines set by the financial authorities, avoiding penalties. It collects data across multiple systems at a rapid pace, saving time.
The graph above shows IBM's acquisition trends. It has spent ~$13.3 billion on acquisitions over the last five years, maintaining an annual run rate of ~$2.7 billion.
Importance of acquisitions
IBM has made 34 acquisitions in the last three years, clearly indicating its aim to grow inorganically. Such acquisitions are necessary for the company to remain competitive in the market, by boosting its market share and enhancing its product portfolio.
Acquisitions are quite common in the software industry. Software giant Accenture (ACN) made 36 acquisitions in fiscal 2017, while Microsoft (MSFT) bought LinkedIn for a record $26.2 billion in 2016.
IBM's strong free cash flow has supported its acquisition goals. In fiscal Q1 2018, IBM's free cash flow rose year-over-year to ~$1.4 billion from $1.1 billion. It has maintained an average annual free cash flow of $13 billion in the last five years.