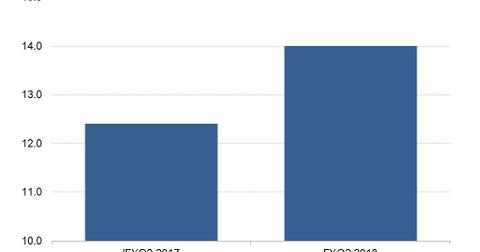 HP Inc. May Remove 5,000 Jobs as It Restructures
By Ruchi Gupta

Updated
Company to take a $700 million charge over layoffs
HP Inc. (HPQ) is continuing its restructuring plan that its board approved in 2016, and several thousand jobs are on the line. The company is looking to eliminate up to 5,000 jobs by the end of fiscal 2019 as part of the restructuring plan that also involves cost-cutting.
HP Inc. earlier estimated that its restructuring would result in the removal of around 4,000 jobs. But a recent regulatory filing, cited by Reuters, shows that the tech giant expects to eliminate 4,500–5,000 jobs as part of its ongoing restructuring. 
The expanded layoff is expected to result in a bigger burden for the company. HP Inc. is estimating about $700.0 million in pretax charges related to the job cuts, up from $500.0 million it estimated previously.
Article continues below advertisement
HPQ's market is shrinking
Although HP Inc. reported that its most recent quarter's revenues exceeded consensus estimates year-over-year, the company has had to adjust as its industry shrinks. HPQ's central business is making consumer hardware products such as printers and PCs. However, the global PC market has been under pressure in recent years amid the rise of mobile devices.
About 61.7 million PCs were shipped globally in the first quarter, representing a 1.4% decline from a year earlier, according to Gartner. That marked the 14th consecutive quarter of declining PC sales.
HPQ leads in PC sales
Nevertheless, HP Inc. leads the shrinking PC market. The company controlled a 20.8% share of the global PC market in the first quarter, compared to Lenovo's (LNVGY) 20.0% share and Dell's (DVMT) 16.0% share.
HP Inc.'s revenues rose 13% YoY (year-over-year) to $14.0 billion in the fiscal second quarter. Its sibling Hewlett Packard Enterprise (HPE) grew its revenues 10.0% to $7.5 billion in the same period. Intel's (INTC) revenues jumped 8.6% YoY in its comparable quarter.