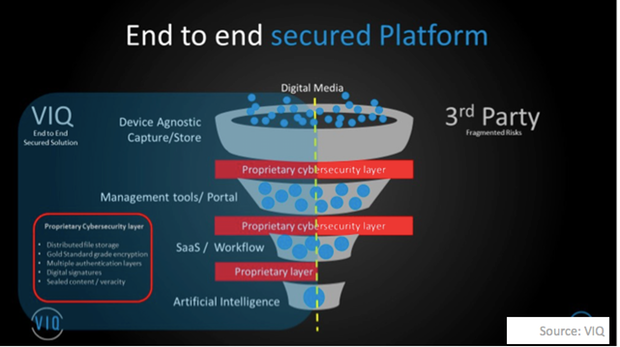 How VIQ's Technology Benefits Organizations
By VIQ Solutions

Dec. 4 2020, Updated 10:53 a.m. ET
VIQ Solutions
Our strong focus on content protection and security lead to collaboration with a major US based homeland security agency, which produced CYBERCRYPT a high-security product release in 2017. This release and its cybersecurity features propelled us further into medical, law enforcement and government-based organizations globally. 
Today, VIQ's platform generates more than 300 million minutes of audio and video content from more than 750 diversified customers around the world. Organizations need to extract value from their vast amounts of unstructured data (digital media) captured and stored, as well as structured data. For example, searching for a specific word in a text document (structured data) takes seconds yet trying to find the same word in a recorded audio or video (unstructured) could result in hours of listening and viewing data.
Article continues below advertisement
The next step in VIQ's business evolution was leveraging our innovative technology and large customer base to convert captured data into documentation, transcripts and searchable data. The strategy was to accelerate the adoption of our SaaS platform to drive margins through high-value document transcription companies with large customer bases in our markets, while simultaneously monetizing AI value through the growing content we directly access.
In today's digital world, securing content is a major issue. VIQ has spent many years pioneering and hardening security specifically for the judicial market. The graphic below depicts how each layer of processed content is protected and secured against unwanted or unauthorized access within VIQ's cybersecurity suite.
Market Realist
The company's SaaS workflow launched in December 2016 and has enabled VIQ customers to easily connect to cloud servers, helping them reduce hardware and management costs. The SaaS platform's first customer on a monthly subscription was the UK Nursing and Midwifery Council.
Several factors set VIQ Solutions (VQS.V) apart from its competitors. The company's access to a massive repository of data makes its AI strong. VIQ uses AI, voice-to-text applications from Nuance, Amazon, Microsoft, and Google, and human collaboration to achieve optimum results.
Competitors' AI engines aren't as robust, given VIQ's extensive vertical-specific data.
VIQ has an international presence and transcription opportunities in four verticals: Government, Justice, Public Safety, and Insurance/Legal.