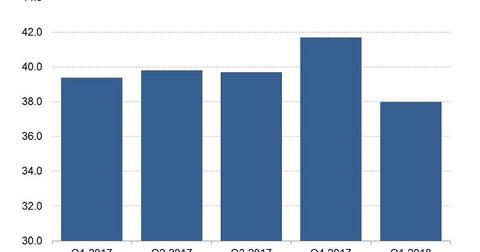 How DIRECTV Now Is Affecting AT&T's Video Business
By Ruchi Gupta

Updated
DIRECTV Now offsets traditional pay-TV losses
AT&T's (T) online television service, DIRECTV Now, is emerging as the growth engine of its video business, which has come under pressure due to online video providers such as Netflix (NFLX), Amazon (AMZN, and Sony (SNE).
Although AT&T's legacy pay-TV business continued to shed customers in the first quarter because of cord cutting, DIRECTV Now made up for the customer losses. AT&T added 312,000 DIRECTV Now subscribers in the first quarter, more than offsetting the 187,000 subscribers lost in the traditional pay-TV business.
DIRECTV Now nears 1.5 million subscribers
Nearly 1.5 million people subscribed to DIRECTV Now at the end of the first quarter, resulting in a total of 25.4 million video customers for AT&T across its various video services at the end of the quarter. AT&T's main video business is its satellite video service, DIRECTV, which has 20.3 million subscribers.
DIRECTV Now prices start at $35 a month. While DIRECTV Now is winning over customers, similar online video services are generally narrower-margin businesses, which could explain why AT&T's video ARPU (average revenue per user) has remained under pressure despite customer gains. In the first quarter, AT&T's video ARPU rose year-over-year to $114.91 from $118.23.
Earnings and revenue fall short of expectations
AT&T missed analysts' expectations in the first quarter. It reported EPS of $0.85 on revenue of $38 billion, while Wall Street was expecting EPS of $0.87 on revenue of $39.3 billion. Wireless and pay-TV rival Verizon (VZ) reported revenue of $31.8 billion in the first quarter.