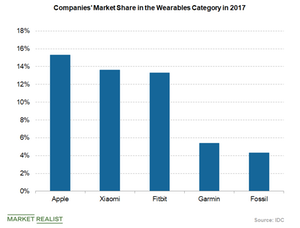 How Apple's New WatchOS 5 Could Appeal to Fitness Enthusiasts
By Sophia Nicholson

Oct. 31 2019, Updated 1:06 p.m. ET
Apple's watchOS 5 to give better fitness tracking
Apple (AAPL) announced during the Worldwide Developers Conference (or WWDC) on June 4 that it would release updated operating software for its smartwatch. The company said that Apple Watch's new watchOS software will focus on expansion in the healthcare market going forward.
Further, the company said the Apple Watch will have a new walkie-talkie feature through which users can send short messages to people in their contact list. Also, users can talk to Siri without saying "Hey Siri" to their Apple Watch. Students can also add their ID cards in Apple Watches OS 5, which reportedly would let students access campus buildings or pay for items on campus with their Apple Watch.
Article continues below advertisement
Apple's focus on health care
Recently, Apple has been making efforts to build on its wellness-focused features and is looking to expand them even further in 2018. The Apple Watch 3, which was released in November 2017, focuses on the LTE (long-term evolution) model and running. With the new watchOS 5, Apple Watch users can now track yoga, hiking, running, and get access to other health and fitness support. The updated software is expected to show users a rolling mile pace, and allow them to set custom speed alerts and track the number of steps run. The company said the Apple Watch will now detect and suggest starting and stopping workouts.
Apple Watch on a growth trajectory
Apple Watch is the most trending smartwatch in the world and contributes significantly to Apple's revenue growth. Apple is the market leader in the wearables category, which includes Apple Watch, AirPods, and Beats, according to IDC. Apple leads the wearables market, followed by China's (FXI) Xiaomi, Fitbit, Garmin (GRMN), and Fossil (FOSL) with shares of 15.3%, 13.6%, 13.3%, 5.4%, and 4.3%, respectively, in 2017.
Apple Watch saw a strong performance in the first quarter of 2018. In fact, Apple Watch has posted over 50% growth in revenue and units in the past four quarters.