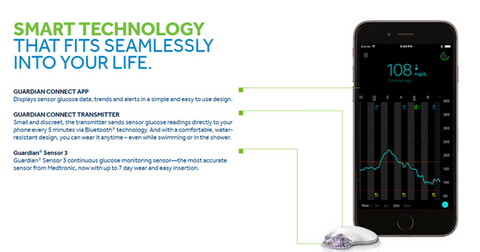 Guardian Connect Expected to Be Medtronic's Big Opportunity
By Sarah Collins

Updated
FDA approval for Guardian Connect system
On March 12, Medtronic announced that it has received FDA approval for its stand-alone CGM (continuous glucose monitoring) system Guardian Connect. The system is the first smart stand-alone CGM system that allows patients to proactively manage their glucose levels.
Product availability
Medtronic expects to launch the device in the first quarter of fiscal 2019.[1. Fiscal Q1 2019 is from May 2018 to July 2018.] The Guardian Connect system was approved in Europe in July 2016 and has been growing significantly since then, receiving excellent feedback from customers.
Medtronic estimates the stand-alone CGM market to be worth $1 billion, which is currently largely underpenetrated. Only a minority of the potential patient base is using CGM devices. Dexcom (DXCM) and Abbott Laboratories (ABT) are the other companies in the medical technology space that offer CGM devices.
With the completion of sensor capacity expansion, Medtronic has ramped up its commercial efforts in Europe for the Guardian Connect CGM, which will continue into fiscal 2019.
Features of Guardian Connect
Guardian Connect is the only stand-alone CGM system that can alert patients of potential events of abnormal glucose levels from 10–60 minutes in advance using unique predictive algorithms. It features Medtronic's Guardian Sensor 3, the company's most advanced glucose sensor. The device can also send alerts to a patient's loved ones in real time or through text messages.
Guardian Connect also features the groundbreaking smart diabetes assistant Sugar.IQ, which continually analyzes the impact of food intake, routines, insulin dosages, and other factors on a patient's glucose levels. It determines patterns to provide personalized insights to help patients better manage their health.
Check out all the data we've added to our quote pages. Now you can get a valuation snapshot, earnings and revenue estimates, and historical data, as well as dividend information. Take a look!