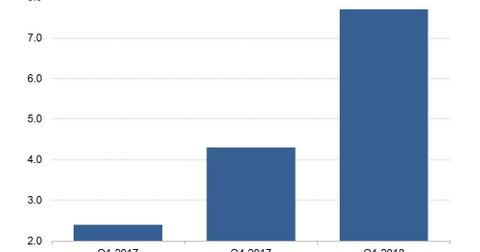 Google's Strong Appetite for Property Explained
By Neha Gupta

Updated
Property investments drove capital spending
Alphabet's (GOOGL) Google recently purchased 173 acres of land in the Netherlands just outside Amsterdam, Bloomberg reports. The company also made recent land purchases in Denmark, Luxembourg, and Sweden. Google is paying ~$353.0 million for a new campus in Dublin, Ireland.
In March, Google closed the purchase of the Chelsea Market building in Manhattan for $2.4 billion. Property investments pushed Alphabet's capital spending to more than triple to $7.7 billion in the first quarter. In an address to investors in April, Alphabet said its property purchases demonstrate that it sometimes prefers owning to leasing property if owning makes more strategic sense.
Google wants to have options for data center sites
In the case of land purchases in Europe, a Google spokesperson stated that the company wants to have options for data center locations in the region. Google already runs a data center facility in the Netherlands and is looking to expand it.
Tech giants Google, Amazon (AMZN), and Microsoft (MSFT) are also building data centers to meet the growing demand for their cloud computing services.
Catching up to market leaders
According to Synergy Research, Google currently lags Amazon and Microsoft in its share of the cloud computing market. Synergy Research estimated Amazon's market share at 33.0% compared to Google's 6.0%. 
However, Google is expanding its cloud capacity, shipping more products and tools, and pitching to large customers as it works to grow its cloud business. The company has been able to persuade Twitter (TWTR), Spotify (SPOT), and Apple to run some of their workloads on its cloud platform. Spotify was once a prominent Amazon cloud customer.