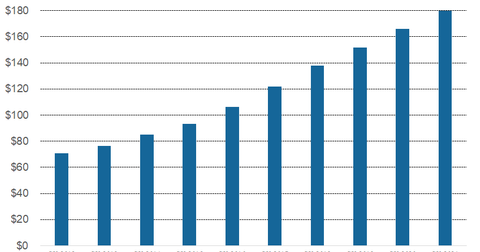 Global Games Market Could Grow 13.3% in 2018
By Adam Rogers

Updated
Global games market might reach $137.9 billion in 2018
According to gaming research firm Newzoo, there will be approximately 2.3 billion gamers by the end of 2018, and the global games market will reach $137.9 billion. The projection implies a YoY (year-over-year) increase of 13.3% YoY (year-over-year), up from $121.7 billion in 2017. Digital gaming is projected to account for 91% of the global games market, or $125.3 billion in 2018.
Mobile games are estimated to rise 25.5% YoY to $70.3 billion and account for over 50% of the gaming market this year. While console games are projected to generate $34.6 billion, PC games could generate $32.9 billion in 2018.
Gaming market to touch $180.1 billion by 2021
As the above chart shows, we can see that Newzoo has estimated the global games market to reach $180.1 billion by 2021, which represents a CAGR (compound annual growth rate) of 10.3% between 2017 and 2021.
We can see how consumer spending in the gaming market has risen from $70.6 billion in 2012 to over $100 billion in 2016 and $138 billion this year. The gaming industry has increased at a CAGR of 11% between 2012 and 2021, providing a huge opportunity for gaming firms including Electronic Arts (EA), Activision Blizzard (ATVI), Zynga (ZNGA) and Take-Two Interactive (TTWO) to grow revenue.