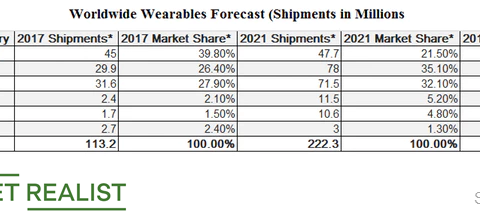 Fitbit Targets Kids Market with Fitbit Ace
By Adam Rogers

Updated
Fitbit Ace priced at $99.95
A few days ago, Fitbit (FIT) announced the availability of the Fitbit Ace for $99.95. Fitbit Ace is a device that was specially designed for kids over the age of eight. The Fitbit Ace provides sleep goals, celebratory messages, and badges for users. The device has a battery life of five days. Fitbit claims the device encourages kids to develop a healthier and more active lifestyle.
The childhood obesity rate is on the rise, and approximately 66% of the children are inactive every day, according to Fitbit. Ryan Rhodes, an exercise psychologist, the director of the behavioral medicine lab at the University of Victoria, and a member of the Fitbit advisory panel, stated, "Fitbit Ace opens up a direct line of communication across the family to help parents and their children understand how physical activity impacts overall well being and health."
Fitbit Ace is available for purchase at major retail stores including Amazon (AMZN), Best Buy (BBY), and Target (TGT).
Smartwatch shipments expected to grow at 22.7% between 2017 and 2021
We have seen how Fitbit is targeting the connected health market and looking at new avenues to drive revenue and shipment growth. A market research firm has estimated smart watch shipments will grow at a CAGR (compound annual growth rate) of 22.7% from 31.6 million devices in 2017 to 71.5 million devices in 2021.
The total wearable market is forecasted to grow at a CAGR of 18.4% between 2017 and 2021 with shipments estimated to rise from 113.2 million to 222.3 million in the same period.