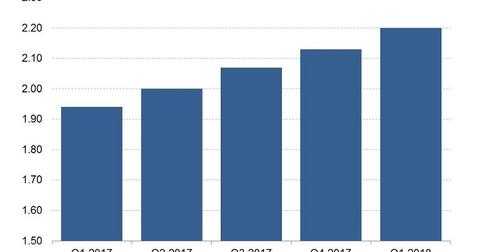 Facebook Is in Hot Water over Data Deals with Samsung and Others
By Neha Gupta

Updated
Apple also had access to Facebook users' data
Facebook (FB) faces fresh privacy questions following reports that it may have struck illicit data-sharing deals with dozens of device makers, including Samsung (SSNLF) and Amazon (AMZN). The New York Times reported that Facebook had allowed at least 60 makers of phones, tablets, TVs, and other devices to access personal information about its subscribers without their explicit consent.
Besides Samsung and Amazon, the other companies with access to personal data about Facebook users include Microsoft (MSFT), BlackBerry (BB), and Apple, according to the report. Apple, which has recently taken to criticizing Facebook's handling of people's personal data, reportedly opted out of Facebook's data partnership last year.
Privacy protection called into question
Facebook entered into data partnerships with device makers to help expand its reach and improve the experience for its users, but the partnerships have raised fresh questions about Facebook's privacy protections as well as its compliance with a 2011 decree that prohibited Internet companies from misleading users about the privacy of their personal data.
Facebook came under fire earlier this year for allowing the personal data of tens of millions of its users to leak to the now-defunct political consultancy Cambridge Analytica.
Facebook sought to expand its reach
The data partnerships were struck before Facebook apps became widely available on smartphones, the report stated. Facebook exited the first quarter with nearly 2.2 billion monthly active users on its flagship social media network compared to Twitter's (TWTR) 336 million. Facebook's other apps WhatsApp and Messenger boast over a billion monthly active users each.