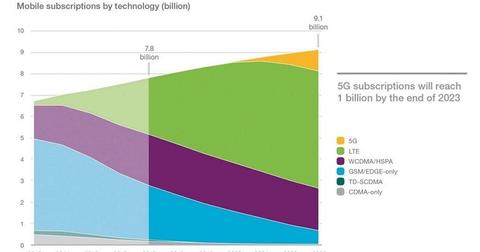 Ericsson Taking $290 Loan to Fund 5G Research
By Ruchi Gupta

Updated
Ericsson to repay EIB loan in five years
Ericsson (ERIC) is taking out a $290 million loan to fund its investments in 5G (fifth-generation) technology research. The telecommunications network equipment vendor turned to the EIB (European Investment Bank) for the credit facility. Last December, Ericsson borrowed ~$370 million, also for the purpose of funding 5G research, from two European lenders. The company invested ~$4.0 billion in research and development last year.
Ericsson will be required to replay the EIB loan within five years of its disbursement. The EIB is the European Union's nonprofit, long-term lending institution, and it's been around since 1958. For the Europeans, the EIB's credit to Ericsson is expected to support European technology and make sure that thousands of high-quality jobs stay in the European Union.
5G promises new business opportunities
For Ericsson, the EIB loan is expected to re-energize its efforts to build next-generation mobile technology. 5G technology is expected not only to result in faster mobile networks but also to create new revenue opportunities in fields such as the Internet-of-Things.
A billion 5G subscribers in five years
The first commercial deployment of 5G networks is expected to begin this year, with Verizon (VZ) and AT&T (T) eyeing rollouts of their 5G services in up to a dozen markets in the United States. The deployment of 5G networks is expected to pick up the pace after 2019, with T-Mobile (TMUS) eyeing nationwide 5G coverage by 2020. Qualcomm (QCOM) says 5G-ready phones for consumers will start arriving in 2019, and Ericsson predicts that there will be a billion 5G subscribers globally by the end of 2023.