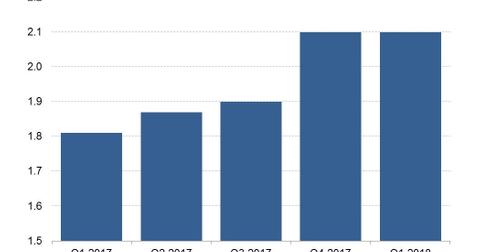 eBay Plus Enters Second Market Three Years after Its Launch
By Ruchi Gupta

Updated
eBay Plus launched in Germany in 2015
eBay (EBAY) has launched its Amazon (AMZN) Prime-like delivery service in Australia. The move comes three years after the service launched in Germany in 2015, raising questions about why eBay delayed its rollout but also inspiring hope that eBay may have finally figured out how to run the program more efficiently or more profitably.
eBay Plus, as it's called, is a membership program that costs $49 per year and offers free unlimited deliveries on items bought on eBay's marketplace. Amazon's Prime program, which also offers free delivery, costs $119 per year in the United States. It hasn't launched in Australia.
eBay generated $2.1 billion in marketplace revenue in the first quarter.
eBay looks to stimulate online shopping
eBay estimates that 36% of Australia's nearly 14 million online shoppers spend more than $71 on shipping costs annually. About 8.0% of Australian online shoppers spend upward of $200 on deliveries annually.
Perhaps the overhead costs of shopping online could be the reason Australian consumers still do most of their shopping in stores. In Australia, only ~8.0% of retail dollars are spent online, eBay estimates. The company hopes Australians will shop online more if there are more cost benefits, such as free delivery. Therefore, eBay is looking to stimulate online shopping in Australia with its eBay Plus program.
e-Commerce battleground
Australia is quickly becoming a key battleground for e-commerce providers. Amazon launched operations in the market late last year, and Alibaba (BABA) and JD.com (JD) already have footholds in the market with regional offices.
The rollout of eBay Plus in Australia seems to be part of eBay's international expansion, which includes its plans to relaunch in India after selling its stake in Flipkart to Walmart (WMT).